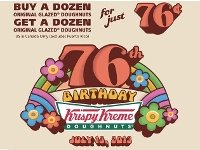 Freebie Corner: Buy 1 dozen at Krispy Kreme, get 2nd for 76 cents
If you're near a Sam's Club this weekend and have a membership, you must stop in to get your free health screening. They offer one each month and this month it's "Healthy Aging".

Do your kids like to build with LEGO's? Each month, LEGO offers a free build in stores. But, that's not the freebie. They post the instructions for that monthly build on their website after the class is completed. That's perfect for those who don't have a LEGO store near them!

This next one isn't free, but it's an incredible deal. Today, July 13th if you buy a dozen Krispy Kreme doughnuts, you can get another dozen for 76 cents. That's a box full of yum!

Freebie #1 -
Health Screening at Sam's Club
- Saturday, July 13th, Healthy Aging Screening - Get your blood pressure checked, Cholesterol, Glucose and Vision Screenings. Follow the link for more details.
Freebie #2 -
Pro-Biotiks Sample
- You have three choices to choose from;
Bio-35 Iron Free, Bio-35 Gluten Free. On their website;"
If, according to our records, you have already received a sample you will not receive a second. We reserve the right to refuse any sample request."
Freebie #3 -
Cautivadora Lipstick Sample
- Everyone who enters their sweeps gets a free lipstick sample.
Freebie #4 -
Better Homes & Garden 1 Year Subscription
- Fill in the form to get your one year subscription.
CLICK "NO" ON THE FOUR OFFERS ON THE NEXT PAGE AFTER SUBMITTING YOUR MAILING INFO.
As with all magazine freebies, near the end of your free subscription you will receive an invoice to renew your subscription. Just write "cancel subscription" on the invoice and mail it back. The invoices usually come with a pre-paid postage envelope.
Freebie #5 -
Pet Emergency Pet Decal
- Select States - Offer open to those who live in an ASG service area - DC, MA, MD, NC, NJ, OK, PA, TX only. Fill in the form to get the window decal.
Freebie # 7 -
July's LEGO Build Instruction Download
- Here's something for those who don't have LEGO store near them or can't attend the in-store LEGO Builds. They post the instructions after the monthly class and only the current month is available for download.
BOGO Krispy Kreme
- I know it's not free, but it's a good deal! Buy one dozen of original glazed and get another dozen for just seventy six cents. This offer is valid on July 13th only.
Jackie lives in Seattle, her blog is Free Hot Samples. Where there are hundreds of freebies & deals up for grabs.
(Source:
Savings.com
)