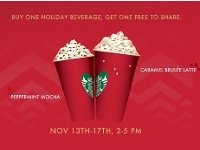 Freebie Corner: Buy one holiday drink and get one free at Starbucks
The baking season is here so grab 30 free ecookbooks to spice up those holiday meals. Everything from baking in a skillet to making clam chowder and a whole book filled with chocolate recipes. Plus, if your in Texas, grab the free cream cheese!
Freebie #1 -
Two Packages of Challenge Cream Cheese
- Select areas of Texas only. "Like" their page and click on the map, fill in the form - you'll be asked to choose your town on the form. It's probably free product coupons that are mailed to you.
Freebie #2 -
Unlimited Coffee at Race Trac
- Ends Today! Any size, any flavor, as often as you want. No coupon needed.
Locations
.
Freebie #3 -
Free Samples Every Tuesday
- Check Pinch Me each Tuesday for freebies. Register or log in to choose your product(s). You do need to go back and leave a review once you've tried the product or you won't be able to get more samples. Each account may offer different samples.
Freebie #4 -
Elf Yourself Calendar
- Create your elves for the video, when your done watch the video. When the video is over click on the "free calendar" button on the top right corner of the page. You'll get a code to use to pick up the calendar for free at Office Max. You can also share the video for free on social media.