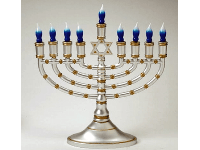 Freebie Corner: Eat breakfast with Santa at White Castle, kids free w/adult purchase
This week there are both Christmas and Hanukkah freebies and craft ideas! For Hanukkah, the kids can make some great crafts to give as gifts. Martha Stewart even has decorating ideas and crafts.
For Christmas, the kids can have breakfast with Santa or follow his path on the NORAD Santa tracker. Another great Christmas freebie is the printable gift tags. There isn't anything worse than running out of them while your wrapping gifts. If that happens to you, just print some out on your computer! There are some for both holidays.
Freebie #1:
Free NORAD Santa Tracker - Amp up the excitement by going to their site Christmas Eve and track Santa's journey! There's even a countdown clock!
Click on the "TRACK SANTA" tab
at the top of their page. The tracking map won't appear on the page until it's Christmas Eve somewhere in the world.

Freebie #2:
Breakfast with Santa at White Castle
- It's not 100% free, but the kids would have a great time!
8am to 10:30 a.m. Saturday, December 15 at 373 participating restaurants.
Up to four children, 12 and younger, eat free with each adult who makes a purchase. No reservations are required. Families are encouraged to bring cameras to capture the memorable moment with Santa Claus at the Castle. Call ahead to make sure you local White Castle is participating.
Freebie #3:
Free Printable Christmas Gift Tags
- Scroll down the page and choose the design you like (3 different designs) and click on it to get a printable PDF.
Freebie #4:
Free Hanukkah Crafts and Coloring Printables
- Choose from coloring pages, Menorah paper craft, jigsaw puzzles and more.

Freebie #5:
Hanukkah Craft Ideas
- From Martha Stewart. Decorating ideas, Dreidel crafts, crafts for kids and more.
Freebie #6:
Kids Hanukkah Crafts
- Star of David, photo frames, potato stamp and more to keep the kids busy.

Freebie #7:
Free Printable Hanukkah Gift Tags
- Scroll down the page for Hanukkah, there are several to choose from.
Don't forget to use the NORAD Santa tracker, it's a great tool to get the kids in bed!
Jackie lives in Seattle, her blog is Free Hot Samples. Where there are hundreds of freebies and deals up for grabs.
(Source:
Savings.com
)