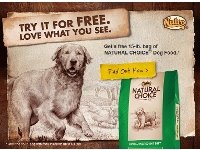 Freebie Corner: Free 15 lb. Nutro Dog Food, free tire rotation and more
This week, you can get a free 4 pack of GoGo SqueeZ. Just scroll down the list and grab that one first because it won't be live for long. They'll mail you a free product coupon that will be valid on January 11th only.
Another freebie you should definitely take advantage of is the free 15 lb. bag of NUTRO Dog Food. Just purchase it in stores and send in the rebate form to get up to $39.99 back.
Freebie #1 -
Dolce & Gabbana "The One" Fragrance Sample
. Choose the fragrance for either women or men and fill in the form.
Freebie #2 -
Hado Labo Skin Plumping Gel
. "Like" them on Facebook to get the form.
Freebie #3 -
Tire Rotation & More at Mr. Tire
. Print the coupon to get a free tire rotation, air pressure check and inflation, alignment check, balance check, brake inspection, fluid check and wiper blade check. Coupon expires 1/31/14.
Locations
- Appointments required.
Freebie #4 -
Up to 5 Pounds Worth or Free Shredding at Office Depot
. Print the coupon and take it and your papers to Office Depot to get everything shredded for free, (up to 5 LBS). Coupon expires 4/29/14
Freebie #5 -
Free 15LB Bag of Nutro Dog Food w/Rebate
. To get your rebate (up to $39.99) follow the steps below.
Purchase a 15-lb. bag of NATURAL CHOICE® Dog Food between 12/30/13 and 2/2/14.
Print and complete the official rebate form below.
Remove the Proof-of-Purchase/Universal Product Code (UPC) symbol from the outer package of your 15-lb. bag of NATURAL CHOICE Dog Food.
Circle the purchase price on your original cash register receipt that's dated between 12/30/13 and 2/2/14.
Mail your completed rebate form, proof-of-purchase and the original, dated register receipt to: P.O. Box 49137, Strongsville, OH 44149-0137
Your request must be postmarked by 2/16/14 and received by 2/21/14.
Freebie #6 -
Tums Refresh Sample
- New Offer. For the first question "On average, how often do you suffer from heartburn?" -
answer 2-3 times a week
.
Then the form will appear.
Freebie #7 -
4 Pack of GoGo SqueeZ
. Follow the link on their Facebook post, pledge your play day and share on either Facebook or Twitter to get the form to enter your mailing address. You have to "share" to get the form. The coupon is valid on January 11th only.
Freebie #8 -
SeaWorld Pass for Florida Teachers
. You must be a teacher in the State of Florida to qualify for this offer. Pass valid until December 31, 2014.
To receive your Study Pass, simply bring the following to any ticket window during your first visit to SeaWorld®:
Your Florida Teaching Certificate
Your pay stub from within the last 30 days
A photo ID that matches the above
Jackie lives in Seattle, her blog is Free Hot Samples.
(Source:
Savings.com
)