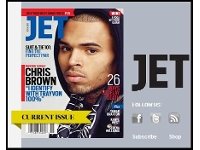 Freebie Corner: Free 20 issue subscription for JET magazine
If you read JET Magazine, they are offering a 20 issue subscription for free. I've been tracking down freebies for years and have never seen a freebie magazine offer for that many issues!
Halloween is only a few weeks away, so snatch up the free Halloween Card Templates and Halloween Stencils for pumpkins. There's over 30 stencils to choose from for every skill level.

For coffee lovers, there are quite a few freebie offers this week. You can grab yourself Gevalia Coffee, Real Cup Coffee or Green Mountain Coffee. You can sign up to get all three of these.

Freebie #1
-
20 Issue Subscription to JET Magazine
. Fill in the form to get yours.
Please Note:
As with all magazine freebies, near the end of your free subscription you will receive an invoice to renew your subscription. Just write "cancel subscription" on the invoice and mail it back. The invoices usually come with a pre-paid postage envelope.
Freebie #2
-
Pumpkin Stencils
. Scroll through the pictures to find the ones you like. Then click "Get the ______ Stencil" to the right to print. There's over 30 to choose from!
Freebie #3
-
Small Plate & Coca- Cola
. Register with California Kitchen Pizza Dough Rewards
by October 31st
and get a free small plate and Coco-Cola.
Freebie #4
-
Halloween Card Templates
. Click on "Download Halloween Cards Template" under the picture of the cards on the linked page to download. Follow the instructions on the PDF to create your cards.
Freebie #5
-
Real Cup K-Cup Samples
. "Like" their Facebook page to get the form. This one looks open to both residents of US and Canada.
Freebie #6
-
Ovaltine Sample
. "Like" BabyCenter on Facebook and fill in the form to get yours. You'll get two samples which is enough for 2 glasses.
Freebie #7
-
Gevalia Coffee Sample
. New Link! Fill in the form. On the next page check "YES" next to the Gevalia offer and "NO" to everything else. Then choose "SKIP" on the following page. It takes less than a minute to do everything listed above.
Freebie #8
-
Green Mountain K-Cup Sampler Pack
. Follow the linked page and click on "Get A Sample". Watch the video. You can't submit the form until video is over (only 30 seconds). Be sure to click "YES" when asked if you own a Keurig Brewer.
Freebie #9
-
Dial Lotion Sample
. It's a sweepstakes but 60,000 winners picked at random will get a sample. Your chances of getting one are pretty good!
Freebie #11 - Possible Free Starbucks Tall Chocolate ChaiTea Latte. Inside Safeway at the Starbucks kiosk. If you're a Safeway JustForU member check your account. I found this freebie in the "Personalized Deals" under the "Deli" category. This offer may not appear in all accounts, but it's worth seeing if it's there for you!


Jackie lives in Seattle, her blog is Free Hot Samples.
(Source:
Savings.com
)