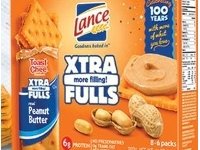 Freebie Corner: Free 8pk of Lance Xtra Full Sandwich Crackers, plus more
If you have a Walmart near you, get a free 8pk of Lance Xtra Full Sandwich Crackers! Use the coupon soon because it expires on 07/02/2013 and the product is only available at Walmart.

School is out but teachers may want to look into getting a grant from PetSmart for a classroom pet. It's never to soon to start planning for the next school year!

Without further ado, here are this week's freebies:

Freebie #1 -
8pk of Lance Xtra Full Sandwich Crackers
- Click on "Get A Free Sample" to print the coupon valid for a one Lance Xtra Fulls Sandwich Cracker 8pk up to $2.78. You have to have the coupon printer installed on your computer. If you don't, you'll be asked to install it. It is a manufacturer coupon but the product is only available at Walmart.
Coupon expires 07/02/13.
Freebie #3 -
Olive Garden Recipes
- Olive Garden offers recipes for their menu items. Make your favorites at home!
Freebie #4 -
LEGO Build
- The build starts at 5pm inside LEGO stores on July 2nd. Get there early because space is limited and it fills up quickly. For this month, the kids can build a crab. Supplies are free.
Freebie #5 -
Cetaphil Sample
- "Like" their Facebook page and answer the questions to get the form.
Freebie #6 -
Pool Test Kit
- Fill in the form to get your kit to measure the pH and chlorine levels.
Freebie #7 -
Window Cord Retofit Kit
- Click on "Order Free Retrofit Safety Kits" at the bottom left of the page. Find what you have hanging in your windows in the list (shades, blinds, etc.
note: there is a kit for blinds made before 1995 and another kit for blinds made after 1995
). Some kits are enough for 4 blinds. Please read all info for each kit. Check the "Order" box and enter quantity. Check out by clicking "Go" on the top right of the page, your total will be zero.
Freebie #8 -
Grant for Classroom Pet, Teacher
s - Get a start on next year by seeing if you qualify for a grant from Pet Smart.
Not Free But Close -
$3 Movie Night at AMC
- All showings are at 10pm on select dates. Proceeds go to 3 charities. Check the linked page for dates and movies. The movies are ones that have been released already but are no longer showing in theaters.
AMC locations
.
Jackie lives in Seattle. Her blog is Free Hot Samples, where there are hundreds of freebies and deals up for grabs.
(Source:
Savings.com
)