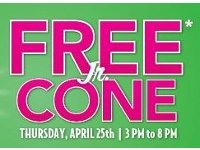 Freebie Corner: Free EVOS milkshake, free Carvel Jr. cone and free Philly Pretzel Factory pretzel
Spring is here and so is a golf freebie! Get a free grip and installation by following the instructions on the linked page. You can also score a free Schick Hydro Razor by sending a text from your mobile device.
Marlboro has several freebies going on as well (
try to get them all, but you'll have to be quick if you want one
). If you have locations near you, you can get a free milkshake, free cone and free pretzel this week too!
Freebie #1: Mio Liquid Energy Enhancer - Stop by a participating 7Eleven location Tuesday, April 23rd to pick one up.

Freebie #2: Multi Color Crystal Stud Earrings - Offer from 1SaleADay. If you've already registered with their site you can't get the freebie :( Add the item to your cart then go through the checkout process. Your total will be zero.

Freebie #3: Fancy Feast Delights with Cheddar - "Like" Tidy Cats on Facebook and click "Register for a Sample."

Freebie #4: Purina One SmartBlend Healthy Metabolism Cat Food Sample - The offer will appear on the scrolling banner under where it says "Purina Pet Park" in black and red letters.
Freebie #5: Secret Golf Grip an Installation from Boccieri - Follow the instructions on the linked page to claim yours. You'll be given a certificate to use inside a store.

Freebie #6: Schick Hydro Silk Razor - Text Offer - Text the word Schick to 24444 - you'll be sent a link via text to claim your free razor. Follow the link to the form to enter your info.
Super easy, I claimed my sample in under a minute.

Freebie #7: Marlboro Freebies - Each day at 4pm EST Marlboro (don't log in until 4pm, if you log in before that it won't be there) is offering a freebie. Last week it was a stout glass,
this week is a deck of cards. They've also been adding freebies here and there so keep checking your account. Be one of the first 800 to comment to get the freebie. Another Marlboro freebie is the Zippo Lighter. They're giving 2500 away every Monday until June 16, 2013. No start time for this one is given.

Freebie #8: Fekkai Hair Care Samples - Costco or Sam's Club membership number required. For Costco: Click on "Click here to get a sample" next to the picture. For Sam's Club: Scroll down the page a bit and click on "Get Sample" in the pink box on the right of the page.
Freebie #9: Milkshake at EVOS - Stop in on Earth Day, April 22 and get a free milkshake. Locations

Freebie #10: Free Admission into National Parks April 22- April 26 for National Park Week.

Freebie #11: Free Jr. Cone at Carvel 4/25 - On their wall:
"Stop in at any Carvel Ice Cream location on Thursday April 25th, 2013 from 3-8 p.m. and receive a FREE Junior Soft Serve cone! Help support American Red Cross Disaster Relief by purchasing a $2 coupon book worth over $20 in savings. All proceeds from sell of the coupon books goes to support the Red Cross Disaster Relief Fund." Coupon booklet purchase isn't required to get the free cone.

Freebie #12: Philly Pretzel Factory - Two offers! First: Free pretzel on April 26th by filling out the form located on the left of their page (coupon will be emailed to you). Second: The first 100 people who sign up daily during the month of May get a coupon for a free pretzel. Locations - CO, DE, FL, NJ, NY, NC, PA and VA.

Jackie lives in Seattle, her blog is Free Hot Samples. Where there are hundreds of freebies and deals up for grabs.
(Source: Savings.com)