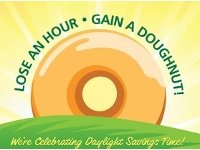 Freebie Corner: Free Krispy Kreme for Daylight Savings
Daylight savings time is this weekend and Krispy Kreme is giving everyone a free doughnut. All you have to do is stop in to get one on March 10th!
How about a box of free hair color? L'Oreal is giving out 10,000 free boxes a day until the 18th. There are even two free full size beauty products, Olay Regenerist Micro-Sculpting Eye Cream Lash Cream Duo and Physicians Formula Wrinkle Filler Deep Moisture Repair. Both are great products so getting one free makes them even better.
The free paint I mentioned last week finally has the coupon available online, just print it out and take it to Ace Hardware to claim yours. If you're a coffee drinker, get yourself a free travel coffee mug!


Freebie #1:
Doughnut at Kripsy Kreme
- In honor of Daylight Savings Time, Krispy Kreme is giving everyone a free doughnut on
March 10th
. No coupon necessary, one per person.


Freebie #2:
L'Oreal Healthy Look Hair Color
- Until March 18th L'Oreal is giving away 10,000 boxes of hair color everyday. No daily start time is given, you have to keep checking to see if the offer is live. Use the coupon sent to you by mail to get your choice of color in stores.


Freebie #3:
Full Size Olay Regenerist Micro-Sculpting Eye Cream Lash Serum Duo - Offer from Vocalpoint, log in or register to get yours! Vocalpoint is a great site to join, they offer awesome freebies throughout the year.


Freebie #4:
HydroxyCut Samples
- "Like" them on Facebook and get samples of HydroxyCut Pro Clinical, Gummies and Sprinkles. You will be sent a confirmation email.


Freebie #5:
Travel Mug
- Offer from L&M, you must be 21 to claim this freebie. Log in or register then click on "Get a Gift" at the bottom of the page
.

Freebie #6:
Possible
Crystal Light Liquid - If you're a member of Safeway's JustForU Loyalty Program go to their site or check your app! I had a Crystal Light freebie there! It was located under the "Personalized Deals" under the "Beverage" category. Must be purchased by April 2nd.
Please Note:
Since this is located under personalized deals which are based on purchase history, it may not be available to everyone. For more info on Safeway's JustForU program
click here.


Freebie #7: Full Size Physicians Formula Wrinkle Filler & Deep Moisture Repair - Offer for the first 1,000 on March 13th at 5pm EST / 2pm PST. "Like" the on Facebook to get yours. They'll post a 'secret word' on their
Facebook wall at 5pm EST, you enter the secret word and your info on the
entry form (will appear when offer is live.) If your one of the first 1,000 to submit you get the freebie.


Freebie #8:
Quart of Paint at Ace Hardware - Print the coupon and claim your paint in-stores on March 9th. Coupon valid on flat enamel only.


Jackie lives in Seattle, her blog is
Free Hot Samples. Where there are hundreds of freebies and deals up for gabs.
(Source:
Savings.com
)