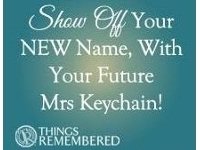 Freebie Corner: Free Things Remembered keychain, free Lay's Stax and much more
If you're a bride-to-be there's and you missed a free personalized key chain tag from Things Remembered last time, here's your chance to snag one. All you have to do is show your Facebook status and you'll get one.


For those of you looking forward to Halloween next month, you can get the kids a Trick or Treat for Unicef Kit. The kids get candy on Halloween and they also get to help others.

Do you watch football on Thursday nights? If you answered yes, find out how you can score some free Lay's Stax!

Freebie #1 -
Maybelline FitMe Shine Free Foundation Sample
- Click on "Get A Free Sample" to get the form. I've received a foundation sample before and they usually send a samples of all the skin tones. So no need to worry that your sample won't match your skin.
Freebie #3 -
Target Sample Offers
- Target has a few freebie offers right now. You can grab another Maybelline FitMe Shine Free Foundation, or an Airborne sample and Snapple Brew Over Ice K-Cup Pack,
Freebie #6 -
Box of Clairol's Nice 'n Easy Root Touch-Up
- Log in or register with Vocalpoint to claim the freebie. A free product coupon will be mailed to you so you can pick it up in stores.
Freebie # 8 -
Lay's Stax
- The first 1000 entrants who fill in the form after the Red Zone Score Alert has been posted - which will be within 15 minutes of the first scoring play, will get a coupon for one free package of LAY'S STAX Crisps. A scoring play may be a touchdown, field goal or safety. Starts on September 12th. There will be
1 Alert for each Thursday night football game
. You'll have to watch their Facebook page while the game is on so you'll know when to claim the freebie.
Freebie #9 -
Trick or Treat for Unicef Kits
- You can order for household, schools or organizations. Each kit contains; Collection Boxes, Stickers, Posters, Donation Form and Reply Envelope.
Freebie #10
-
Full Size Snicker Bites
- Offer for the first 10,000 who sign up daily though 9/16. You'll be mailed a free product coupon to use in-stores.
REMINDER:
Free Krispy Kreme Doughnut Thursday 9/19
-
Offer good for one free doughnut per customer who talks like a pirate to a Krispy Kreme team member at a
participating shop. One free dozen Original Glazed doughnuts per customer who wears a full pirate costume into a participating Krispy Kreme location. Redeemable on September 19, 2013 only at participating Krispy Kreme US locations.