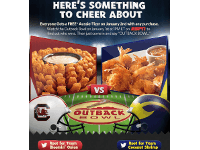 Freebie Corner: Free appetizer at Outback Steakhouse and more
Christmas is over (yes!), now it's time to get back to the normal freebie list. Sign the kids up for the Home Depot Kids Workshop in January, where they can build a diamond birdhouse to use this spring. They'll love putting their personal touches on it
and hanging it in the yard.
If you're a football fan you'll love this one, how about a free appetizer at Outback Steakhouse. The free appetizer will be determined by which team wins the Outback Bowl on January 1st. Will you be rooting for a Blooming Onion or Coconut Shrimp Aussie-tizer?

Freebie #1:
Free Home Depot Kids Workshop
- Free hands-on workshops designed for children ages 5 - 12. Saturday, January 5th 9:00 a.m. – 12:00 p.m. January's build is a diamond birdhouse. All kids get to keep their craft and receive a free Kids Workshop Apron, commemorative pin and certificate of achievement. Contact your local Home Depot for more information.


Freebies #2:
Free Aussie-tizer at Outback January 2nd
- The winner of the Outback Bowl on January 1st will determine which appetizer is free (free with any purchase). On January 2nd go to Outback and mention "Outback Bowl" to your server to get your freebie. If South Carolina wins you get a free Bloomin' Onion. If Michigan wins, you get a free Coconut Shrimp Aussie-tizer.


Freebie #3:
Free 2013 ClubCrafters Wall Calendar
- When you sign up for their newsletter, you get a 2013 calendar.
Freebie #4:
Free Quit Tea Sample
- Scroll down their page for the form. The tea is used to help you quit smoking cigarettes.


Freebie #5:
Free Plantscription SPF 25 Anti-Aging Face Cream Sample
- Offer goes live January 1st, no time is given. Offer posted on their Facebook wall. "
Like us now! On January 1st, you'll be eligible for a FREE Sample of the all-new Plantscription SPF 25 Anti-aging face cream."
Freebie #6: Free Nature Made VitaMelt Sample -
Offer ends January 4, 2013 or while supplies last. Maximum of 50,000 samples given per a day and 400,000 samples given during the entire offer period. "Like" them to get the form. If you missed it today, try again tomorrow.

If you're looking to start off your new year by quitting smoking, there's a freebie for that too. If you try it, come back and leave a comment. I'm curious to know if it works.

Jackie lives in Seattle, her blog is Free Hot Samples. Where there are hundreds of freebies and deals up for grabs.
(Source:
Savings.com
)