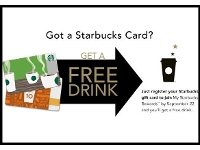 Freebie Corner: Free beverage at Starbucks when you register gift card online
Starbucks is offering a free beverage if you have a Starbucks gift card. If you register the card online, they'll load the free beverage to it!

Kroger and it's affiliates offer a free full size product each Friday (Free Friday Download). You have to load it to your store card on Friday, but you'll have 2 weeks to pick the item up in stores.

Smithsonian Magazine offers free admission to museums across the country each year. This year's date is September 28th. Just fill in your info and choose a museum. They will email your ticket that is valid for 2 people.

Freebie #1 -
LEGO Build 9/28 inside Toy's "R" Us
- Build a LEGO Friends Picture Frame September 28, 2013 from 12-2pm. Build will be at all Toys R Us locations Event is for children
ages 5 and up
. Event materials available while supplies last and available only to participating children. Limit one per child.
Freebie #3 -
Beverage of Choice at Starbucks
- If you have a Starbucks Gift Card, (they're re-loadable by the way), register it online by September 22nd and Starbucks will load a free drink to your card. You can't get this offer if your card is already registered.
Freebie #4 -
Mrs. Dash Seasoning
- It's an instant win game but your chances are good! 75,000 will win Taco Seasoning Mix Packets and 54,000 will win Chili Seasoning Mix Packets
Freebie #5 -
Freebie Friday Kroger & Affiliates
- Each Friday Kroger & Affiliates offer a freebie that can be downloaded to your store loyalty card. The offer is only available for download on Fridays, but you'll have two weeks to pick it up in stores. The offer will appear on the scrolling banner.
Freebie #7 -
Sensodyne Sample
- Costco membership number required to get this freebie. Click on "Get a Sample" to the right of the picture.
Freebie #8 -
Museum Admission Across the USA
- Smithsonian Magazine offers this once a year. Click on the "Ticket Information" tab. One ticket is valid for 2 people. Enter your info and choose the museum in your area. Show the printed ticket or the ticket on your phone.
The free admission is valid September 28th only.
Freebie #9 -
NARS Foundation
- This offer goes live at noon EST everyday until 9/28 and is for the first 100 people who sign up each day. They're offering a different color tone each day.