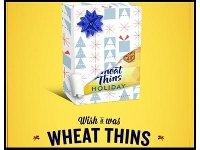 Freebie Corner: Free box of Wheat Thins and more
Each day until December 22nd, you can have a chance at winning a box of free Wheat Thins. The first 400 who responds to the tweet, get the freebie. Another favorite freebie this week is the free food (with purchase) coupon at Chili's each day until December 24th. It's the perfect freebie, if you're going to be out holiday shopping all day!
Freebie #1: Clorox Disinfecting Wipes & Glad Trash Bag Sample. You have to copy and paste the link into your browser to get the form. http://www.startsampling.com/sm/102935depot/
Freebie #2:
Box of Wheat Thins
. Each day through December 22nd, the first 400 to respond to Wheat Thins tweet, get a free box! Send a tweet to Wheat Thins about a bad gift you received last year using hashtag
#WishItWasWheatThins
. If you're one of the first 400, they will send you a direct message about how to claim your prize.
Make sure you follow Wheat Thins on Twitter if you're trying to score a box, they can't message you unless you follow them.
It's said that they post the tweet around noon EST.
Freebie #4:
Teacher Freebie!
Chinese New Year Learn With Me Program Kit
. Panda Express is offering a free educational program for teachers. School name is required to download the kit. The kit is for students in second to fourth grade and includes the following:
- Exclusive Access to the Panda Express Chinese New Year Video
- Year of the Snake Fact Sheet
- Jade Emperor's Game & Activity Sheet
- Chinese New Year Decoration Art Activity
- Lai See Activity Sheet
Freebie #5:
Food at Chili's w/Adult Entree Purchase
. Everyday until December 24th, Chili's is offering a free food coupon. The coupons are only valid with the purchase of an adult entree. Coupons change each day. You can view upcoming coupons by scrolling down their page.