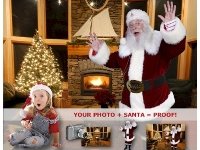 Freebie Corner: Free call, video message or picture with Santa
Thanksgiving is over, so now we can focus on Christmas. How about some freebies that include Santa? From a phone call or video message from Santa to a photo including Santa that usually costs $9.99 for free, you are set to make this Christmas the best one yet!

Freebie #1:
PinchMe
- Offer goes live each Tuesday and stays live until all the samples are gone. You can claim up to 3 samples each week. The page gets hit hard with traffic when the offer goes live on Tuesdays. You may get a "bad gateway" message or the page may take forever to load, but keep trying.
Freebie #2:
Phone Call from Santa
- The free phone call is ONLY provided after confirming that you have a valid email address, and that requires receiving and clicking a confirmation link in an email they send to you.
Freebie #3: 2014 Horse Calendar - Fill in the form to get yours. The form may take a bit to submit.
Freebie #4:
Video Message from Santa
- Send the message to a child or an adult. Enter if it's for a boy or girl, enter their name, you can upload a photo for Santa to show in the video but not required.

On the second or third page you are asked to upgrade to a paid version, you skip that and just click "NEXT" to continue for the free offer.
Then the paid will be offered again a couple pages later, scroll down and click "continue with free version."
Freebie #5:
Add Santa to a Picture at Your House
- Use code #SantaShare to get yours for free
(regular price $9.99
). Enter the code where it says "Gift Card, Coupon or Redemption Code" and click "Apply Code" to change your total to zero. This offer is only valid for pictures and
expires December 10, 2013
. The code can used over and over again, so tell your friends! The picture is digital, you download the picture to your computer.