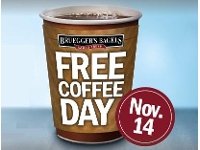 Freebie Corner: Free coffee at Brueggers and Seattle's Best Coffee, plus more
There are some good freebies this week! Tide is offering 4 re-sealable stickers for it's pod containers to help keep them closed when not being used. If you have sinus problems you can get a full size sinus rinse bottle for free!
Black Friday is coming up a Value City Furniture has a freebie. You have to register online and be there at 6am to claim it. I think I'll pass on that one! There's also two coffee offers this week.
Freebie #1: Tide Re-Sealable Stickers for pod containers. Just fill in the form to have them sent to you, set of 4.

Freebie #2: You can get a free full size NeilMed Sinus Rinse Bottle w/2 packets! "Like" them on Facebook to get your free bottle with 2 packets. You have to answer a few questions and watch a video to get the freebie.

Freebie #3: If your going to a Subway for breakfast or lunch, you can get a free "Wreck It Ralph" tote bag with the purchase of a kids meal.

Freebie #4: Black Friday Freebie at Value City Furiture Stores for the first 25 who register for each store. Doesn't say what it is, but keep in mind it looks like you have to be there at 6am to claim it. You'll receive an email to confirm your spot.

Freebie #5: Get a sample of Aveeno Nourish+ Strengthen samples. "Like" their Facebook page and scroll down until you see the green "Free Sample" button about half way down the page.

Freebie #6: It's the Shave Container Swap at Nordstrom. During the month of November you can bring your shave container to Nordstrom and swap it for a deluxe sample of Get Jack Black, Art of Shaving or Kiehls shaving cream.

Freebie #7: You can get a free coffee on the November 14th until 2pm at Brueggers. The coffee is free but guest are encouraged (but not required) to make a donation to Children's Miracle Network Hospitals.

Freebie #8: Another coffee offer, this one's from Seattle's Best Coffee. Choose what you would like to receive; a free sample delivered to your home, free cup in stores or print a coupon for $2 off a bag of coffee.

DEAL: Hallmark Crown Store's are offering a $5 off $10 purchase or more with the printable coupon from their site.

Just an FYI about the Shaving Container Swap. It doesn't matter if your container is full or empty, either will get you the freebie. I had to throw in the Hallmark deal, it's a 50% savings and if you find an item for $10, that's a great deal!

Jackie lives in Seattle, her blog is Free Hot Samples. Where there are hundreds of freebies and deals upf or grabs.
(Source:Savings.com)