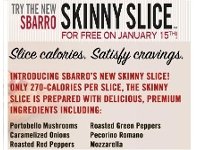 Freebie Corner: Free pizza at Sbarro & 1 yr. subscription to Ladies Home Journal
My favorite offer this week is the window cord retro safety kit. Just about everyone has blinds or shades of some kind in their home. This kit will help make the cords safer if children are near them and some of the available kits fix up to 4 windows.
If you have a young/teenage girl in your house she will love the free bracelet available this week. For yourself, grab a free slice of pizza on the 15th at Sbarro's. You can also get a free one year magazine subscription to Ladies Home Journal!
Freebie #1:
Get a free Kotex "
Generation Know Bracelet
" by filling in the form.
Freebie #2:
Innovative Skin Restorative Eye Complex
is offering samples on their site.
Freebie #3:
Free
Pet Emergency Window Decal
- Offer open to those who live in an ASG service area - DC, MA, MD, NC, NJ, OK, PA, TX only. Fill in the form to get the window decal.

Freebie #4:
Free Window Cord Retro Safety Kit
- Click on "Order Free Retrofit Safety Kits" at the bottom left of the page. Find what you have hanging in your windows in the list (shades, blinds, etc. - note: there is a kit for blinds made before 1995 and another kit for blinds made after 1995).
Some kits are enough for 4 blinds
- please read all info for each kit. Check the "Order" box and enter quanity. Check out by clicking "Go" on the top right of the page.

Freebie #5:
Free 1 Year Subscription to
Ladies Home Journal
- Fill in the form to get your subscription.
As with all magazine freebies, near the end of your free subscription you will receive an invoice to renew your subscription. Just write "cancel subscription" on the invoice and mail it back.
Freebie # 6:
Free
Vplenish Vitamin Powder
Sample - Get started by choosing "Home" or "Business" under "Request Info and Sample" on the right of the page.
Freebie #7:
Free
Skinny Slice at Sbarro's
, January 15th - "Like" them on Facebook and click "Get Coupon" to print. Coupon valid January 15th only.
Freebie #8:
Free
Lipton Black Tea
Sample
-
"Like" them on Facebook and fill in the form.
Jackie lives in Seattle, her blog is Free Hot Samples. Where there are hundreds of freebies and deals up for grabs.
(Source:
Savings.com
)