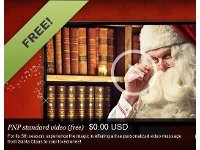 Freebie Corner: Free video message from Santa and more
Christmas is sneaking up on us, it will be here before you know it. Everyone is going to be spending money on gifts, wouldn't it be nice to score some things for free? How great would it be for your child(ren) to get a free video message from Santa. When your done watching the video, take them to get a free picture with him! I personally love the 'Hand" Made Ornament, this is a great idea to do every year!
Freebie #1:
Let the kids make some homemade
Children's Hand Made Ornaments
from items you have at home. The instructions call for clay, but I don't see why you couldn't use some felt and glue it to cardboard for stability.
Freebie #2:
Free
video message
from Santa - this is too cute! Click on 'Get Started" and go through entering the child's information and picture for Santa to talk about in the video.
You can preview the message at the end. You can have it emailed to you or another email address.
Freebie #3:
Free Elf Yourself Video and Wall Calendar
. Click on 'Upload Photo," then agree to the terms and conditions. Go through the process of creating your video. After you're done making the video, view it. The "Free Calendar" button
will appear at the top right of the page while you're viewing it
. Click on that to have your free calendar code created. Print the code and take it to an Office Max Print Center to get a free year at a view calendar. $6.99 value. You can also post the video to your Facebook page for free.
Freebie #4:
Stop in at the free
Bass Pro Shop Winter Wonderland
. At Bass Pro Shops. Get a free picture with Santa, free crafts and play free games. Check the schedule for events.
Tabs for the events are on the left of their page.
Freebie #5:
Santa's Guide to Easy Christmas Crafts for Kids.
Crafts include; ornaments, special holiday pocketbook, glitter stockings, ribbon wreath and more.
Freebie #6:
Another freebie for kids are tons of
Christmas printables
. Includes: Advent calendar, word search, coloring sheets and more.
There are always tons of free stuff during the holiday season. These are a few Christmas freebies to get you started, keep an eye on future post for even more!
Jackie lives in Seattle, her blog is Free Hot Samples. Where there are hundreds of freebies and deals up for grabs.
(Source:
Savings.com
)