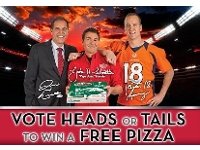 Freebie Corner: Vote heads or tails to win a free pizza at Papa Johns
This week you can try to get yourself a free large one topping pizza! The winners will be those who guess the coin toss at the Superbowl correctly. I voted, then I had my husband go online and vote too. No matter which way the coin toss goes, I'll be eating a free pizza!
We're going to be painting the interior of our entire condo soon, so I'm pretty happy about the free paint sample available. Just print a coupon to get a sample size of paint to try on your wall before you buy. I'm sure I'll be trying several different colors, so at least I can get one for free!
There's a great emergency window decal for autistic kids this week. Please only request it if you have someone autistic in your home or know someone who does.
Freebie #1:
Free Papa John's Large 1 Topping Pizza
- One vote per person. Pick heads or tails, fill in the form, and if you guess correctly, you get a large Papa John's one-topping pizza. It's awarded in the form of a unique, one-time use alpha-numeric promotion code redeemable at papajohns.com. Code has to be redeemed online and expires Sunday, March 10, 2013.
Freebie #2:
Free "Handle with Care, I'm on the Autism Spectrum" Window Decal
. Fill in the form to get your window decal.

Freebie #3:
Free Skinny Cheese eCookbook
- "Like" them to download the cookbook. Includes 30 recipes for light, reduced fat and fat free cheeses.

Freebie #4:
Free Can of Purina One Dog Food
- Offer in Petco stores with printabe coupon. You have to be a Pals Rewards member, you can sign up for it while your at the store. Print the coupon on their site to get the free can in stores. Coupon expires 2/28.
Freebie #5:
150,000 Coupons for a Free Valspar Paint Sample
- "Like" them on Facebook to get your coupon .

Jackie lives in Seattle, her blog is Free Hot Samples. Where there are hundreds of freebies and deals up for grabs.
(Source:
Savings.com
)