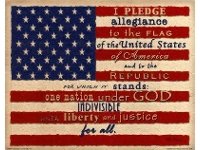 Freebie Round-Up 6/29 & July 4th
Have you been getting your freebies? I have a wicker basket I store mine in and once a month I take a picture of the freebies I received for my blog. Anyway, my wicker basket is overflowing for June, plus there's a nice size pile of freebies next to it on the floor. Hope your mailbox gave you a hearty bounty too.

You can grab this freebie for your or your pet. Nordic Naturals has sample packs of Wellness, Sport or Pet Pack. Click on "Free Sample" at very bottom of page on right (it's very small).

This one isn't free, but it's close! Old Navy's annual $1 Flip Flop sale is Saturday, June 30th. I've gone to this before, just take my word for it that you want to get to the store early!

The kids will like the free Build & Grow Clinics at Lowe's. The schedule for July is: July 14th and 15: Kung Fu Panda Spinning Attack, July 28th and 29th: Kung Fu Panda Stacking Friends. The clinic and supplies are free. You have to register online. You can also score a free Chuggington Wooden Railway Toy a $12.99 value. Offer from Toys R Us, free with printable coupon. In stores only while supplies last. No rain checks will be issued. Coupon expires 6/30/12.

Are you a cheese lover? If so this is the magazine for you! You can get 2 free issues a year of Melt by filling in the form. Click on 'Subscribe Free' about half way down the page.

If you live near a Quick Chek make sure you print out the coupon on their Facebook page to get yourself a free medium Banana Split Hot Chocolate. Coupon valid at Quick Chek only and expires 7/2/12. If your heading to the movies at a Regal Cinema you can get a free popcorn. You can print the coupon or show the QR code scanned on your phone. Coupon valid 6/26 -7/1. Don't forget that every day throughout the Summer Dreyer's Ice Cream and Edy's Ice Cream are giving away a limited number of coupons good for a free cup of their ice creams (25,000 total for each brand)! The times will be different each day for the giveaway, so like them and watch their wall for updates so you know when the giveaway goes live. The next one isn't a freebie but it is a BOGO. Buy a Frappuccino and get one free at all Target Starbucks locations. Offer good until July 2nd.

July 4th Freebies:

Now, for July 4th there aren't really any great freebies (there never are). But there are a few to help you get your meal together if your doing some grilling and couple other freebies.

You can get a free Grilled Cheese Bacon Burger Offer from Carl's Jr. and Hardee's if you dress up like Spiderman. You don't have to go in a completecostume, a Spiderman t-shirt will score you a free burger too. No purchase necessary. One per customer while supplies last. Limited to 50 per restaurant. Dine-in customers only. Guest must be present and dressed in a Spider-Man costume. No masks allowed. Offer good only on July 4th, 2012 starting at 11am. At participating restaurants. Follow the link below, choose your restaurant to see the offer.

You can get 50 free fireworks from Fireworks Supermarkets with the printable coupon. No purchase necessary. Locations.

Are you having a big party on the 4th and need to buy in bulk? Anyone can shop at BJ's Warehouse from June 28th - July 8th. No membership needed!

Starbucks is serving free tall brewed coffees on the 4th. In their post is a line that says; "To spark the conversation in our stores, your local Starbucks will proudly serve everyone a free tall brewed coffee on the Fourth of July."

If you need help with your meal and some crafts to create FaveCrafts has a free July 4th Crafts & Recipes ebook. Enter your email address to download the ebook. Crafts Include: Tote Bag, Pinwheel, Shirt, Wreath and more. It also includes crafts for kids. Recipes Include: Grilling Recipes, Red White and Blue Pinwheel and more. Don't forget about the Food Network, they have tons of July 4th recipes to help you create a meal everyone will talk about.

If your going to do some shopping on the 4th, kids can get a free combo meal at IKEA ($2.49 value).
Offer valid July 1st - July 4th.

In case it rains on the 4th you may want some free printables for the kids to keep them busy indoors.
Stop by the following sites for July 4th coloring pages, puzzles and crafts; Kaboose.com, Apples4TheTeacher.com, EducationalColoringPages.com and Printables4Kids.com.

I googled a few cities looking for parades and other events and a lot popped up! Google your city and state to find events in your area. Some may be free!

Jackie lives in Seattle, her blog is Free Hot Samples. Where there are hundreds of freebies and deals up for grabs.