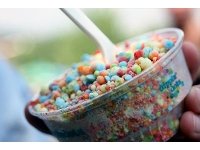 Freebie Round-Up 7/13
Friday the 13th, doesn't always bring bad luck, though it was a slow week for freebies. But, there are some freebies that can turn your luck around today. We'll start with the free food and drinks!
"For one day only, black and white spots, cow bells and furry ears will be appropriate attire at Chick-fil-A Restaurants all across the nation." That's right, dress like a cow tomorrow and get a free meal at any
Chik-fil-A Restaurant
. I wish I had one near me just so I could sit inside the restaurant and do some people watching!
More of a coffee drinker? If you're near a
Starbucks
tomorrow
between noon and 3pm
you can get a free tall hand crafted Refresher of your choice. While
Wawa's
are offing a free iced latte, just fill in the form and watch your email for the coupon. It's hard not to think of ice cream in the summer time, and this Saturday, the 14th, you can score free
Dippin Dots
! Simply print out the coupon from their site, which is valid for one small cup of Clusterz. The coupon is valid on
7/14 between 7pm - 9pm only
. Offer is located on the scrolling banner, scroll through until you see "NEW CLUSTERZ", then click "Get coupon".
Target
is a great place for household samples and the offer them quite often. Right now they are offering sample of Shout Color Catcher and Woolite Dark Care. If you spend time traveling, don't miss out on scoring a free travel pillow from
Sleep Number Beds
. The offer is only available in stores with a printable coupon. 'Like' their Facebook page and click on 'Unlock the Download,' you have to share on your FB wall to get the coupon. After you get your coupon you can enter a sweeps to win a Sleep Number bed!
For the kids there is the free
Lowes Build & Grow Clinics
this weekend. The clinic and supplies are free. You have to register online. July 14th and 15th the kids can make Kung Fu Panda Spinning Attack. And since some of us consider our pets as children,
Nature's Variety
Instinct Raw Boost is giving away free samples for either your dog or cat.

About the author: Jackie lives in Seattle, her blog is Free Hot Samples. Where there are hundreds of freebies and deals up for grabs.