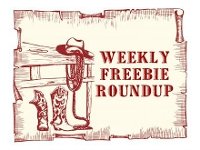 Freebie Round-Up: 7/6
It's scorching hot in most parts of the country, but here in Seattle summer is just arriving. It's finally going to hit 80 degrees this week. Finally! I couldn't take much more of the gray skies and rainy drizzle, I was at the end of my tolerance level for the sticky weather. Now that I've vented, lets move on to the freebies for this week.
If the temperatures are climbing high in your area, you can grab a free Slurpee next Wednesday, July 11th at
7 Eleven
stores, as a little something to help you cool down! Visit a participating 711 store on 7/11 between 11am - 7pm CST to get a free
7.11 oz. Slurpee drink.

Quick Chek's freebie this week is a free 2.07 oz Snickers Bar with printable coupon. "Like" their Facebook page to print. Coupon valid only at Quick Chek and expires 7/9. Be sure to check their linked page every Monday for the freebie of the week. Coppenhagen Smokeless Tobacco is giving out your choice of a deck of playing cards or jar of BBQ sauce, (I picked the BBQ Sauce). You must be 21 or older to enter their site (smokeless tobacco products). Log in or register to get yours. You can grab a free Red Bull 4 pack when you upload a picture or video. Their site says; "Submit a valid photo or video (we'll have people checking for anything – ahem – out of bounds) and you will be rewarded with a complimentary Red Bull 4-pack to share with friends while supplies last."

If you're a parent, you'll want to sign the kids up for the Kids Free Work Shop at Home Depot this Saturday, July 7th. Kids can build their very own working moving truck! It's a free hands-on workshops designed for children ages 5 - 12 offered the 1st Saturday of every month at all The Home Depot stores between 9:00 a.m. – 12:00 p.m. All kids get to keep their craft and receive a free Kids Workshop Apron, commemorative pin and certificate of achievement. If you can't make that one, Lowes has the same tyoe of class, The clinic and supplies are free. Lowes schedule for July; July 14th and 15: Kung Fu Panda Spinning Attack, July 28th and 29th: Kung Fu Panda Stacking Friends. You have to register online for this one.

And what kid wouldn't want a speaker that fits on top of a Pringles can? You can get one for free by purchasing 4 Super Stack cans of Pringles by October 31, 2012 and mail in your receipts with the printable form by Nov. 20, 2012. Sam's Club is offering your little one a free sample of Good Nite's. Just fill in the form to get yours, a membership number is required.

Did you ever wonder how far you could trace back your family tree? If you have, you can start searching for free on Ancestory.com. They are allowing free access to everyone until July 8th. If you looking for someone special, eHarmony has free access until the 8th too, no credit card required.

This freebie has a daily limit. Bausch & Lomb is offering a free sample of Bio True Lens Cleaner. Make sure you choose "NO" on the questions so you can get the form. If they run out for the day you'll be offered a money saving coupon. If your offered the coupon instead of the sample, try again tomorrow for the freebie. Garnier is giving out samples of their new shampoo and conditioner, Fall Flight. You have to follow the link in their post.


Jackie lives in Seattle, her blog is Free Hot Samples. Where there are hundreds of freebies and deals up for grabs.