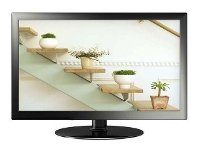 Get a 24-inch LCD monitor for $109.99
Big monitors rock.
Not just for everyday computing tasks like Web browsing and word processing, though obviously a spacious screen is great for that stuff.
No, the real value lies in computer-powered entertainment: movies, games, photo slideshows, and so on. For tasks like these, nothing beats a big monitor.
For a long while, a 22-inch display represented the price/performance sweet spot. Anything bigger and you'd pay a premium. But not today: TigerDirect has the
UpStar M240A1 24-inch LED monitor for $109.99
, plus around $9 for shipping. That's after redeeming a $10 mail-in rebate (
PDF
).
Even without that, this is one of the best deals I've seen on a monitor of this size. Indeed, over at Newegg, the
same model sells for $149.99
.
Although UpStar isn't exactly a household name when it comes to LCDs, the M240A1 appears to have all the right stuff, at least on paper. It features three inputs--VGA, DVI, and HDMI--and offers a 5-millisecond response time, which means you shouldn't notice any blur when viewing fast-moving objects (like in games and movies).
Alas, because this is a new item, you won't find any user reviews, either at TigerDirect or Newegg. (I came up empty at Amazon as well.) That gives me a bit of pause, but at least TigerDirect has a
30-day return policy
.
I think if you're in the market for a big monitor (and you should be!), this is a hard deal to pass up. The rebate offer is good until the end of October, though I'm not sure how long this pre-rebate price of $119.99 will be in effect.
Veteran technology writer Rick Broida is the author of numerous books, blogs, and features. He lends his money-saving expertise to CNET and Savings.com, and also writes for PC World and
Wired.
(Source:
Savings.com
)