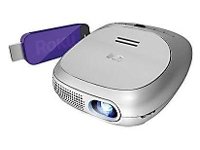 Get a 3M projector with Roku streaming for $159.99
Projectors are really cool. Point one at any wall just about anywhere and you've got yourself a home theater.
Of course, you'll need to connect a laptop or DVD player. You'll need to position everything close to an AC outlet for power. Oh, and don't forget about speakers. Maybe I should have said, projectors are really cool--once you get past all the hassles.
Wouldn't it be great, then, to have a projector with everything you need built right in? Like this one: Staples has the
3M Streaming Projector for $159.99 shipped
(plus sales tax in most states). That's just about half the $299 list price.
The Streaming Projector is compact enough to fit in the palm of your hand, yet it's like a self-contained home theater. It runs on a rechargeable battery, so you don't need a nearby outlet. It has a built-in speaker, though you can also plug in a pair of headphones or, if you want bigger sound, external speakers.
Perhaps best of all, it comes with a Roku Streaming Stick, which plugs directly into a port in the back. So to look at this another way, it's a Roku box with a projector attached!
That means you can stream movies and TV shows from the likes of
Crackle
, HBO Go, Hulu Plus, Netflix, Vudu, and so on. (Alas, YouTube is still MIA.) Anything you can do with a traditional Roku box, you can do with the Streaming Stick.
Now, it probably goes without saying that the Streaming Projector probably can't take the place of your living-room TV. Though reasonably bright at 60 lumens, it has a maximum resolution of 854 x 480, which is decidedly standard definition.
But this might be the ideal setup for a bedroom or den, or especially for a kid's room during a sleepover or the like. Heck, you could pack it along on your next trip; as long as there's Wi-Fi in the hotel room, you can stream all your favorites instead of relying on whatever crummy channel selection the hotel offers.
I haven't tried the Streaming Projector myself, so I'll refer you to
CNET's review
to learn all the pros and cons. They called it "flat-out fun," and that's when it was priced at $300. The only big downside was the less-than-stellar battery life (about 1.5 hours based on their tests), so you might need to keep an extension cord handy.
Even with that limitation, this would be a really fun gadget to have around the house. At this price, it's mighty tempting. Your thoughts?
Veteran technology writer Rick Broida is the author of numerous books, blogs, and features. He lends his money-saving expertise to CNET and Savings.com, and also writes for PC World and Wired.
(Source:
Savings.com
)