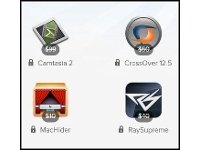 Get a $412 Mac software bundle for whatever price you want
Everyone knows there's no such thing as a free lunch. But a dirt-cheap deal on a really expensive lunch? Yeah, that's a thing.
It is today, anyway, and for the next couple weeks. StackSocial's
Name Your Own Price Mac Bundle 3.0
comes with 10 Mac apps that have a combined value of $412. Your price: whatever you want to pay.
No, really. It says so right there in the name. Ah, but there's an asterisk missing: Unless you pay at least the average purchase price, which is currently $12.53, you get just three programs: YouTube downloader Airy, home-inventory manager Compartments, and desktop animator My Living Desktop.
Those alone are worth $60, and if you're feeling especially cheap, you can walk away with them for as little as a penny. Great deal, no fuss, job well done.
That said, consider beating the average so you get the full bundle, which includes some very worthwhile software.
For example, you get Camtasia 2, a top-rated screencasting tool that normally sells for $99 all by itself. Also included: CrossOver 12.5, a utility that lets you run Windows programs on your Mac without having to run Boot Camp or any other real-world Windows environment.
The rest of the bundle includes things like document manager iDocument 2, text-to-speech tool Narrator, and 3D-modeling app RaySupreme.
Perhaps best of all, StackSocial sets aside 10 percent of your purchase price for donation to your choice of charities: Child's Play, Creative Commons, and World Wildlife Fund. Keep that in mind while you're deciding how much this bundle is worth.
I think for any Mac user who feels the pinch of pricey software, the Name Your Own Price Mac Bundle 3.0 is definitely worth something. Your thoughts?
Veteran technology writer Rick Broida is the author of numerous books, blogs, and features. He lends his money-saving expertise to CNET and Savings.com, and also writes for PC World and Wired.
(Source:
Savings.com
)