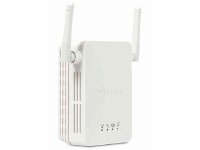 Get a Netgear Wi-Fi range extender for $64.99
In an ideal world, your Wi-Fi router would deliver a strong signal to every corner of your house. In reality, signal strength diminishes as it passes through walls, floors, and ceilings, so it's not uncommon to end up with weak Wi-Fi in some areas.
One fix is to string Ethernet cables throughout your house, but that's not my idea of a good time. A much easier fix: install a Wi-Fi range extender, a simple box that boosts your existing router's signal power.
The WN3000RP works with all routers, not just those made by Netgear. It's worth noting, however, that it transmits at a 2.4GHz frequency, so if you have a dual-band router that also supports 5GHz, you'll be limited to 2.4GHz when connecting to the booster.
That's a pretty minor issue for most users. The good news is that the WN3000RP is very much a plug-and-play product: Plug it into a wall socket -- preferably one that's centrally located -- then link it to your router via simple Push 'N' Connect setup. That establishes a secure Wi-Fi Protected Setup (WPS) connection.
Once that's done, you should enjoy a significantly stronger Wi-Fi signal. The only real hassle is that you may to have reconfigure your various devices -- laptops, tablets, etc. -- to connect to the WN3000RP instead of to your router. But that's a 60-second task at most.
I haven't used this product myself, but the 17 current user reviews on TigerDirect's product page rate it 4.1 stars out of 5 on average. Most of them suggest it works exactly as advertised.
Although $65 shipped isn't what I'd call cheap, it's still a savings of $10-20 over what you'd pay elsewhere. And if it saves you the hassle of drilling holes in walls and running Ethernet cable (which could easily cost you the same or more) all over the house, that's money well spent.
The coupon code expires on September 29, though there's always the chance TigerDirect could sell out before then (it's been known to happen). If this sounds like a good solution to your home's Wi-Fi problems, grab it fast!
(Source:
Savings.com
)