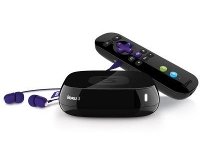 Get a Roku 3 streaming media player for $84.99
Back in March, I called the Roku 3 the
"best streaming box you can buy, period!"
Here in October, nothing has changed: There's no better way to bring Netflix, Pandora, and oodles of other online content to your TV.
Of course, the $99.99 list price can be a bit tough to swallow. That's why I'm excited about this deal: Amazon has the
Roku 3 streaming media box for $84.99 shipped
. It's new, not refurbished, and the lowest price I've seen on this, Roku's top-end model. Holiday gift shopping, done!
In case the word "Roku" isn't part of your vocabulary, the box plugs into one of your TV's HDMI ports, then streams nearly every video and audio service known to man: Amazon Instant Video, Hulu Plus, HBO Go, Netflix, Pandora, Slacker, Spotify, TuneIn Radio, Vudu, and literally hundreds of others.
What's more, although Roku still doesn't offer a YouTube channel, which puzzles me no end, there's a fairly simple workaround that lets you
watch YouTube on your Roku box
.
Why buy the Roku 3 when you can get one of the lower-end models for even less? It's all about the remote. For starters, it relies on Bluetooth, meaning it doesn't need a direct line of sight to the box. Thus you can stow the box in a cabinet or some other out-of-sight location, preserving your living-room decor in the process.
Even better, the remote has a headphone jack! Plug in the included set of earbuds (or your own, though Roku's sound surprisingly good) and you can listen in private, without disturbing those around you. That's what I call a marriage-saver.
I'm not sure how long Amazon will be offering the Roku 3 at this price, but the good news is that with the holidays close at hand, if you miss out, you'll probably seem similar deals in the coming weeks.
Veteran technology writer Rick Broida is the author of numerous books, blogs, and features. He lends his money-saving expertise to CNET and Savings.com, and also writes for PC World and
Wired.
(Source:
Savings.com
)