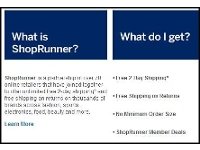 Get a ShopRunner account free for one year
If you're anything like me, you like free shipping the way you like ice cream and shoulder rubs. Nothing wrecks an online shopping experience more than getting to the checkout page and discovering you're on the hook for $10, $20, or even more for shipping.
That's why I'm partial to ShopRunner, a nifty service that, among other things, assures you free shipping at more than 70 stores. Even better than that, free two-day shipping.
In case you've never heard of it before now, ShopRunner upgrades you to free 2-day shipping at stores like Beauty.com, Newegg, Shoes.com, and Toys R Us.
Interestingly, there's no minimum purchase, so you can score that fast, free shipping even if you buy only a single item or spend only a couple bucks.
If you typically order a lot of apparel, you'll especially appreciate this: ShopRunner also nets you free return shipping. That's great not only for returning clothes or shoes that don't fit, but also a huge plus if you've ordered something big and heavy (like a TV) and decided you don't like it. (Note: Restocking fees may apply, so although return shipping is free, the return itself may not be.)
Finally, the service offers members-only deals like "10 percent off your order" and "save $15 on $75 or more." These aren't exactly earth-shattering, though, nor are they always the best discounts you can find.
For example, ShopRunner offers 15 percent off your entire purchase from Shoes.com, but you can find
a 20-percent discount code right here at Savings.com
. That's not to say you shouldn't check ShopRunner's deals, merely that you may find similar or better ones elsewhere.
No, the big attraction here is the free two-day shipping. And now that you can enjoy it free for a year, you've got nothing to lose by signing up. Good time to be an Amex customer, I'd say.
Veteran technology writer Rick Broida is the author of numerous books, blogs, and features. He lends his money-saving expertise to CNET and Savings.com, and also writes for PC World and Wired.
(Source:
Savings.com
)