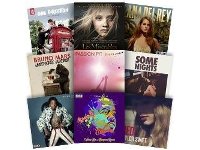 Get a free $2 credit at Amazon MP3
Sometimes it's the little things that can really make your day.
Although this giveaway is aimed at students who might like to purchase Kindle textbooks, anyone can take advantage of it.
Simply answer Amazon's question about what you'll do with the money you'll save by choosing e-textbooks, and presto: You've got two bucks to blow on music.
The only catch is that you need a Facebook account, and you need to let Amazon share your answer on your news feed. The answer itself doesn't matter; you can write in "groceries" or "flamethrower" or "I don't buy textbooks, but thanks anyway."
Needless to say, you'll also need an Amazon account. If you've never purchased music from Amazon before, the songs you buy will end up in
Amazon Cloud Player
, which you can access via your PC, a Roku box, an Android or iOS device, and so on. You can also download the songs to your iTunes or Windows Media Player music library.
Once you've answered the question and shared it on Facebook, you'll receive a $2 credit in your Amazon account. That won't be immediately obvious anywhere, but if you click through to any song or album page and then find the "Redeem a gift card or promotion code & view balance" link, you can verify that the credit is in your account.
From there it's just a matter of choosing a couple songs! Carly Rae Jepsen? Something from "Les Mis"? Maybe the latest from Bruno Mars? Hit the comments and let me know how you're going to spend your two MP3 bucks.
Veteran technology writer Rick Broida is the author of numerous books, blogs, and features. He lends his money-saving expertise to CNET and Savings.com, and also writes for PC World and Wired.

(Source:
Savings.com
)