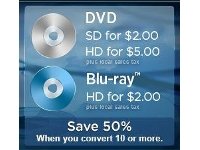 Get a free DVD disc-to-digital conversion from Vudu
You know your prized DVD of "The Shawshank Redemption"? Wouldn't it be cool if you could watch that movie on your phone, tablet, or laptop? How about your Roku box or game console?
Last I checked, my iPad doesn't have a DVD player. However, thanks to
a new service from Vudu
, I can convert many of the DVDs in my library to digital, cloud-accessible movies available for streaming or downloading just about anywhere. And the first conversion is free!
Vudu's Disc-to-Digital service originally required you to take your movies to your nearest Walmart, but the new In-Home option saves you the trip. Just install a small piece of software on your Windows PC or Mac, pop in a DVD (or Blu-ray, if your system has a Blu-ray drive), then follow the instructions.
It costs just $2 to convert a DVD to a standard-definition (SD) digital file or a Blu-ray to a high-definition (HD) one. That's certainly less than it would cost to buy a digital version of a movie from, say, Amazon or iTunes.
Interestingly, there's also an HD option for DVDs--an upgrade of sorts--but that costs $5 (and isn't offered as part of the first-one-free promotion). Although it's still cheaper than buying a Blu-ray or even an HD digital version, it strikes me as odd given that Blu-ray conversions are only two bucks.
I should also point out that not all movie studios support disc-to-digital conversions, and therefore Vudu's software won't work with all your movies. It did work nicely with my copy of "The Shawshank Redemption" (best prison movie ever), and I loved being able to put the disc away for safekeeping while being able to watch the movie on just about every device I own.
If you want to learn more about the service, I highly recommend reading
CNET's extensive hands-on coverage
. Ultimately, the reviewer found it "promising but lacking," a takeaway I agree with. But you've got nothing to lose by taking it for a test drive.
Veteran technology writer Rick Broida is the author of numerous books, blogs, and features. He lends his money-saving expertise to CNET and Savings.com, and also writes for PC World and Wired.

(Source:
Savings.com
)