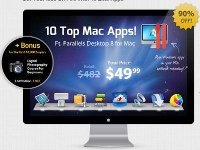 Get a huge Mac software bundle for $49.99
If you're a Mac user, you already paid a fairly high price for your hardware, and you've probably discovered that Mac software tends to be pricey as well.
Every so often, though, you can score a great deal on a software bundle. Like this one: For a limited time, StackSocial has the
Summer 2013 Mac Bundle for $49.99
. It includes 10 programs that would cost $482 (!) if purchased separately.
The undeniable highlight of the bundle is Parallels Desktop 8, a hugely popular utility that allows you to run Windows on your Mac--without having to reboot. (It's literally Windows in a window.) Parallels alone would cost you $80, so if you're in the market for it anyway, you can look upon this as a huge discount topped with nine free goodies.
Those goodies include screen-capture tool Snagit, auto-text tool Typinator, file-compression utility WinZip 2.0, and project manager xPlan. StackSocial is also dangling a free digital-photography course for the first 10,000 bundle buyers.
These are the full versions of all the programs, not "lite" or time-limited editions. And you'll be downloading all of them, rather than getting boxed copies. The only downside is that there are no refunds, though that's not uncommon with software purchases.
Needless to say, if you find value in even a few of the bundled items, this is a deal worth getting. It's available for roughly the next two weeks.
And while we're on the subject of Mac stuff, Digiarty Software is offering its
MacX Video Converter Pro absolutely free
. With it you can convert video files to other formats, create photo slideshows, download YouTube videos, and so on.
To get it, copy the license code shown on the giveaway page, download and install the program, then use the code to register/activate it.
I've used Digiarty's stuff before, and although you'd suspect some strings to be attached, it's just a great freebie.
Veteran technology writer Rick Broida is the author of numerous books, blogs, and features. He lends his money-saving expertise to CNET and Savings.com, and also writes for PC World and Wired.
(Source:
Savings.com
)