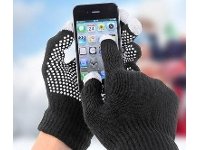 Get a pair of touchscreen-compatible winter gloves for $14
Winter is a tough time of year, and not just because it's cold out. No, the real hassle is that you can't interact with your smartphone without peeling off one of your gloves.
That's because phone screens are capacitive, meaning they respond to the electrical impulses produced by your fingertips. (Yep, you have electric fingers. Who knew?) Put yarn or leather or Gore-tex in the way and the screen has no idea you're tapping it.
What you need are smart gloves for your smartphone. Like these: For a limited time, StackSocial is offering the
Bazaared Touch Screen Gloves for $14 shipped
. They normally sell for $29.
At first glance, these look like a fairly standard pair of black knit gloves, save for the white fingertips and funny little bumps on the palm side.
As it happens, the thumb, middle, and index fingers all have conductive material woven in so that your phone recognizes your taps and swipes. And the bumps are there for better gripping of the phone itself, as the last thing you want is your Moto X slipping out of your hand and into the snow.
These are one-size-fits all gloves made of acrylic acid and elastic fiber. They're machine-washable and, according to Bazaared, "just the right thickness so you can still reach into your pocket or purse to grab your phone without having to take them off."
I think at $14 out the door they're a pretty awesome stocking-stuffer. I'm planning to grab a few pair for myself and some family members. Your thoughts?
Veteran technology writer Rick Broida is the author of numerous books, blogs, and features. He lends his money-saving expertise to CNET and Savings.com, and also writes for PC World and Wired.
(Source:
Savings.com
)