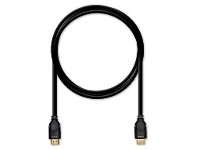 Get an HDMI cable for $1.96
Modern home theaters run on HDMI cables.
They're used for just about everything: game consoles, cable boxes, Roku boxes, Blu-ray players, Apple TVs, home-theater receivers, and on and on. Heck, if you run out of HDMI inputs on your TV, you need an HDMI switch--which itself requires an HDMI cable.
Unfortunately, many people make a mistake when the time comes to buy an HDMI cable: They venture down to the local big-box or electronics store and pay $20, $30, sometimes even $50 for one. If this was you, don't feel bad: You didn't know any better.
What's the catch? Shipping adds a rather ridiculous $5.59--unless you're an Amazon Prime subscriber, in which case it's free. (Alternately, if you pad your cart to at least $25, you qualify for free Super Saver Shipping.)
Okay, but surely there's some other catch as well, right? A $2 cable can't possibly compare to one that sells for $20, can it?
It can. Lots of studies have shown that cheap HDMI cables work just as well as expensive ones. To learn more, check out CNET's exhaustive examination of the subject:
"Why all HDMI cables are the same."
For what it's worth, the Nyrius cable adheres to the HDMI 1.4 specification, meaning it supports things like 3D, Ethernet, audio return, and other features that, in real-world home theater, really don't matter much.
I've ordered lots of cheapie cables like this one, and I've never had a problem. Rather, they've all worked flawlessly.
By the way, if you're not an Amazon Prime subscriber and don't want to spend $25 just to get a $2 cable shipped free, you don't have to look far to find another one that's nearly as dirt-cheap. Meritline, for example, has a
6-foot HDMI cable for $2.99 shipped
, though because it's shipping from China, it'll take 2-3 weeks to arrive.
The moral of the story: never, ever pay more than five bucks for an HDMI cable. If you do, you're getting ripped off.
Veteran technology writer Rick Broida is the author of numerous books, blogs, and features. He lends his money-saving expertise to CNET and Savings.com, and also writes for PC World and Wired.
(Source:
Savings.com
)