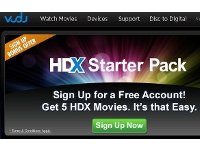 Get five free HD movies when you sign up for Vudu
Movie-streaming service Vudu is working overtime to attract new customers. A few months back, I reported on the company's
free DVD-to-digital conversion
(an offer that's still available, by the way), and now they're giving away the store. Well, sort of.
For a limited time, you can get five free high-definition movies when you
sign up for a new Vudu account
. (Note to Google Chrome users: I've never been able to get the Vudu site to display properly in that browser. You may need to use Firefox, Internet Explorer, or Safari if you want to take advantage of this offer.)
Specifically, the Vudu HDX Starter Pack gives new customers five HDX-format movies. And what the heck is HDX? It's the best of the three tiers of streaming quality offered by the service, equivalent to 1080p and "twice the resolution of other Internet HD video formats," according the Vudu.
You can sign up for the service using your Facebook account (which is easiest, though you will have to grant the usual permissions) or an e-mail address. You'll also need to set up (or link to) an UltraViolet account (UltraViolet is kind of a companion service used to manage movie purchases) and provide a credit card number.
Once you've finished all the setup stuff, you'll be able to choose from around 30 movies. Don't expect any cinematic classics, but there are some decent choices, including "The Italian Job," "There's Something About Mary," "Crouching Tiger, Hidden Dragon," and "Rango."
From there you can watch your movies on any supported device: Android phone or tablet, game console, Roku box, iPhone or iPad, some Blu-ray players and smart TVs, and so on. And if you decide you're not feeling it with Vudu, you can cancel your account by sending an e-mail to support@vudu.com.
So, what freebies will you be watching this weekend?
Veteran technology writer Rick Broida is the author of numerous books, blogs, and features. He lends his money-saving expertise to CNET and Savings.com, and also writes for PC World and
Wired.
(Source:
Savings.com
)