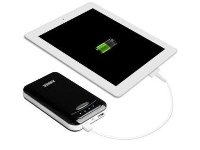 Get the top-rated Anker Astro E5 mobile charger for $49.99
Did Santa bring you a new smartphone? Tablet? E-reader? Bluetooth speaker? Gadgets like these need power, and it seems like there's never enough--especially when you're traveling.
What's more, if you have an older mobile device, chances are good its battery is starting to show signs of wear, meaning it doesn't last nearly as long between charges.
All the more reason to pack a mobile charger. Ah, but which one? There are literally hundreds of different makes and models out there, all in different shapes and sizes, all promising to keep your devices humming indefinitely.
My pick: just about anything from Anker's Astro series. And for a limited time, you can get the top-end model for a song: the
Anker Astro E5 mobile charger for $49.99 shipped
. Regular price: $99.99.
What separates the E5 from dozens of similar-looking portable power packs? A few things. For starters, it packs a massive 15,000mAh battery, making it one of the rare chargers that can fully recharge a current-generation iPad. This despite its very travel-friendly dimensions: 4.9 x 3 x 0.9 inches and 11.2 ounces.
It also has dual USB outputs, meaning you can charge two devices simultaneously. Four status LEDs tell you at-a-glance how much power the Astro itself has left. There's even a built-in flashlight so you can make your connections in the dark.
To really understand the appeal of the Astro E5, though, check the user reviews. At last count there were over 800 of them, with an average rating of 4.7 stars out of 5. That's almost unheard-of for any such product, and it speaks volumes about how good these chargers are.
My one and only complaint is the way the charger itself gets charged: via an included microUSB cable, which must be plugged into either a computer's USB port or the AC adapter that probably came with your phone or tablet.
That gripe aside, this is about as good as it gets for a mobile charger. I've used the Anker series myself, and they're exactly as good as advertised. If you need extra juice for your gadgets, grab this for your purse, carry-on bag, glove compartment, or the like.
Veteran technology writer Rick Broida is the author of numerous books, blogs, and features. He lends his money-saving expertise to CNET and Savings.com, and also writes for PC World and
Wired.
(Source:
Savings.com
)