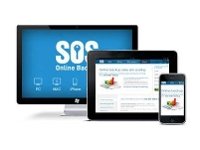 Get three years of online backup for $29
A wise relative who works for an enterprise storage company once told me, "There are two kinds of people: Those who have lost data, and those who will lose data."
Strong words, but I believe them. I'm in the former camp, and trust me when I say there are few things in life as gut-wrenchingly awful as losing precious documents, photos, emails, and other files.
This kind of data disaster can result from just about anything: fire, flood, theft, hard-drive failure, or even a havoc-wreaking virus. It's scary stuff, which is why I strongly recommend making regular backups.
Fortunately, you don't need a lot of time, technical know-how, or even money to put an effective backup system in place. Especially if you take advantage of this offer: For a limited time, you can get a
three-year subscription to SOS Online Backup for just $29
. How good a deal is that? Normally a
single
year costs $99.99.
That subscription gives you 100 gigabytes (GB) of cloud-based storage, which you can share across up to five devices. SOS works with PCs, Macs, Android devices, and iPhones and iPads.
This isn't intended as a full-system backup (which wouldn't be practical for a cloud-based system anyway), but rather for preserving all your important data: the aforementioned documents, photos, and the like.
Among the neat features offered by SOS: an automated, "smart" backup utility that scans your hard drive and finds the files that need backing up; online access to your data, which you can also share with friends and relatives; and Android/iOS apps that can protect your contacts, photos, and other mobile stuff.
This is an almost criminally good deal, especially given that there's a 30-day money-back guarantee if you decide you don't like the service. But don't wait to give it a try: the offer expires in just three days.
If you've found an online-backup deal you think is even better, or you have some experience with SOS, tell me about it in the comments!
Veteran technology writer Rick Broida is the author of numerous books, blogs, and features. He lends his money-saving expertise to CNET and Savings.com, and also writes for PC World and Wired.
(Source:
Savings.com
)