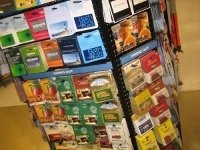 Gift Card Wedding Registry: The New Money Saving Trend
According to a 2009 survey of brides and newlyweds conducted by
TheKnot.com
and
WeddingChannel.com
, a wedding gift should cost about $70 if it's from a friend, around $130 from a family member, and never less than $50--no matter who it's from.
That's an awful lot for most of us to shell out, especially if there are multiple weddings to attend within a relatively short period of time. Considering both that 30% of annual weddings in the U.S. take place during the summer and that July is the single most popular month for weddings in the U.S., according to the U.S. Department of Health and Human Services, wedding guests definitely need a way to save this summer.
One increasingly popular way of doing so is the
gift card registry
. In fact, gift card registries can help improve various aspects of the gift giving process for both guests and soon-to-be-married couples.
What is a gift card registry?
Gift card registries are like any other wedding registry, except that couples simply pick their favorite stores rather than inventories of certain items. All guests have to do is pick a store from the couple's list, decide on a denomination for their
gift cards
and fill out billing and shipping information.
Savings for gift givers
If you're a gift giver, a gift card registry will help you save both money and hassle. The fiscal savings are derived from the fact that gift cards don't require shipping or wrapping costs, which means you can either spend less on the same present or buy a better gift with your original budget. If you're lucky, the couple will also choose a card that you can find on sale at a
gift card exchange
, thereby allowing you to save even more.

Benefits for the happy couple
If you're to be married, the benefits are similar. You'll get better gifts because budgets won't be consumed by shipping or wrapping costs and because you won't be stuck with duplicates. What's more, you'll be assured of getting exactly what you need, including expensive items that wouldn't feel comfortable listing in a traditional registry.
Any Downsides?
Gift card registries aren't for everyone. Some people might not like the idea of gift cards as wedding presents because of their perceived impersonality. Others might think gift cards represent a lack of effort on the gift giver's part. These are indeed valuable points, but who says you can't personalize a gift card? Who said easier was automatically worse? There are various ways to add your own touch to a gift card. You could, for example, package it creatively--in a decorative box or picture frame perhaps. You could also send a letter with it expressing whatever sentiments you might have about the big day. Finally, if it's a choice between a better gift and a gift that's more difficult to procure, most couples will probably be just fine with the better gift--even if it's a gift card.
Odysseas Papadimitriou is the CEO of Card Hub, an online gift card marketplace.