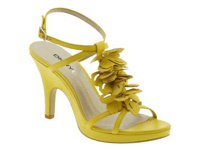 Give Your Toes Some Air and Save 20% with Our Piperlime Exclusive
It's time to release your toes from those confining winter shoes and boots, and now is a spectacular time to do it. Our good friends over at Piperlime have made a brand new exclusive coupon code just for Savings.com visitors and members (going live on 3/21). This time, they've upped the discount to 20% off orders of $125 or more! If that isn't enough incentive to stock up on spring and summer shoes for you and your family, I don't know what is. This Piperlime coupon code is good on regular and sale priced shoes, sandals, boots, handbags, and more.
The DKNY Amora t-strap heeled sandal (pictured above) is my pick for what to use the 20% off coupon on. While gladiator sandals seem to be the popular pick for the hot summer sandal style again, I prefer something a little more...fabulous. I know, what kind of LA girl doesn't dig the gladiator sandals, right? Well, me, for one. But with our exclusive 20% coupon code from Piperlime, you can get these lovely sandals, and another 3 1/2 inches of height, for just $108.
Whatever Piperlime shoes suit your style, be sure to buy them with the exclusive 20% off coupon code from Savings.com before March 31, 2009. The coupon will activate on 3/21.