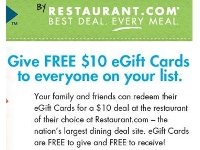 Give a free Restaurant.com gift certificate to everyone you know
If you're anything like me, your gift-giving holiday spirit is often at odds with your gift-giving budget.
In other words, much as you'd love to buy a little something for every friend, family member, and co-worker, you just can't afford it.
All you do is sign into your Restaurant.com account (or sign up for one, which is also free), type a greeting, then choose one or more recipients from your Facebook, Google, Messenger, and/or Yahoo accounts. You can also enter individual e-mail addresses if you're not connected to any of those services, or your intended recipients aren't.
Click "Send" and presto! Every person on your list gets a $10 gift certificate, which can in turn be redeemed at any participating local restaurant. (There may be some fine print involving a minimum purchase or the like, but ultimately it's still $10 off the total bill.)
I realize this sounds almost too good to be true, but this is the fifth year Restaurant.com has run this promotion, and I can attest it's totally legit--and totally awesome. My only complaint is that the gift certificates must be delivered electronically; there's no option to print them. So much for using this as your Secret Santa gift at the office.
Even so, this is a great way to spread some holiday cheer without spending a dime. Heck, you can even send a gift to yourself. Or, you know, your favorite blogger.
Veteran technology writer Rick Broida is the author of numerous books, blogs, and features. He lends his money-saving expertise to CNET and Savings.com, and also writes for PC World and Wired.


(Source:
Savings.com
)