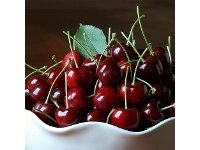 Contest Alert: 3 lbs. Dark Sweet Cherries
It may be Friday the 13th, but there's nothing to fear, especially when it's one winner's lucky day! Last week, we gave away a 40 Piece Dinnerware Set from Mikasa. Congratulations to Savings.com user purplelover04! Erica,
I've sent you an email with all the details, but if you haven't received a note by next Tuesday (the 17th), please send me a message at social@savings.com.


This week, we're giving away 3 lbs of Dark Sweet Cherries from our friends over at
The Fruit Company
. Picked at the very peak of ripeness, these cherries are shipped within hours of being picked to your door, so you don't have to wonder if they'll be fresh or spoiled. Sweet and juicy, these large cherries will arrive full of flavor and firmness. I love the painted watercolor box that these are packed into, and with three pounds of goodness available, you won't mind sharing. Don't worry about quality- these cherries are also certified Kosher by Oregon Kosher.
If you're already dreaming about biting into the soft, firm flesh, hurry up and take a look at our
contest rules
and leave a comment on this blog post by the end of the day Thursday, July 19th, telling us what makes your life good. We'll announce the lucky winner on Friday, July 20th.