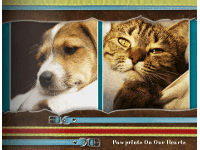 Giveaway: $50 Mixbook Gift Card
Here at Savings HQ, we lead a relatively paper-free existence, as emails and in-office memos are the norm. All this talk about pictures and printing has me reminiscing about college though! Even for students with the most luxurious winter breaks (my own was 6-weeks long!), classes are back in session.
For some of you Moms out there, hopefully this means getting the kids out of the house and having a few spare minutes to yourself, for a change!
Last week, we had a Canon Pixma MG6220 Printer and six-months of ink to giveaway. It's Friday, which means it's time to announce the lucky winner! Congratulations to Facebook user Hannah, who said "
I'm a single momma trying to work my way through school and ink is so expensive that I've always had to print things out at a friend's house or Kinkos. It would be so great to have a new printer with ink for awhile."
Ink definitely adds up, and 15-page essays certainly aren't cost-effective. Hannah, I've sent you an email with instructions on how to claim your prize. If for some reason it doesn't reach you, send me an email at social@savings.com before the end of the day on Tuesday, February 14th, or another winner will be chosen.
Continuing on last week's photo theme, this week, we're giving you the chance to win a $50 gift card to Mixbook. Upload your pictures from Facebook, Flickr, and other sites to easily create a customizeable photo book, card, or calendar. Choose from one of their professional designs or start from scratch- Mixbook's software allows you to lay out and design your product to your exact liking. Whether you want to create a digital scrapbook to remember your favorite moments, or you're putting together a gift for a friend's birthday, Mixbook brings together design and simplicity within a simple site interface that lets you quickly configure your product. Have an idea but want to work with others? You can invite your family and friends to upload their photos to your project, then personalize and decorate the pages together.
As I stated last week, for the month of February, we're having you enter our giveaway in a slightly different fashion than normal. For your chance to win, visit our Facebook page and leave a comment there. If you're not a fan, just click the giant "Like" button at the top of the screen!
What would you create if you won the gift card?