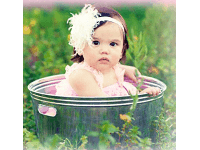 Giveaway: Paradise Gallery Doll
This week has been all about dreams. The MegaMillions lottery keeps giving us record highs, and the current prize has reached $640 million. Offices are pooling their money to buy a stack of tickets, and coworkers are scheming about how to spend their potential winnings. Even though the odds are that you're more likely to get struck by lightning, we can't help but get caught up in the excitement. Whether it's cheering for Jeremy Lin, the unlikely NBA star from Harvard, or watching a reality show, we all look for an escape from our normal day to day routine.
Last week, we had a $50 gift card to
Karmaloop
to giveaway. We asked you to tell us what small thing you do to calm your nerves before a big day. Congratulations to Savings.com user
BarracudaRon
, who said "Music soothes the beast". We couldn't agree more, and we recommend turning up the radio during your happy dance. I've sent you each an email with instructions on how to claim your prize. If for some reason it doesn't reach you, send me an email at
social@savings.com
before the end of the day on Tuesday, April 3rd or another winner will be chosen.
When I was a little girl, there was nothing I loved more than stealing the necklaces from
Pretty Pretty Princess
and playing dress up with my dolls. At the end of the day, most of us know that we won't win the lottery, but we hold on to that "what if". Thankfully, there was a time when 9-5's and morning coffee didn't exist in our universe, and we didn't have to worry about responsibilities or cynicism.
This week, we're giving you a chance to win a doll from
Paradise Gallery
! Which doll? Well, that's the best part- you get to choose! Whether it's for your daughter or niece, she'll love having a toy, whether she's playing the schoolteacher in the classroom, or pouring them a cup of tea. She can get carried away with her imagination, and what better time than when she's little?
To enter, leave us a comment below or over at our
Facebook page
, and tell us who you would give the doll to. Next week, we'll choose one winner to win a doll!

Above Savings.com Ad Unit available through the Savings.com Affiliate Program