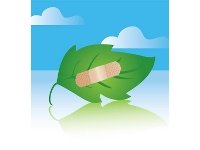 Going Green: Five Signs that an Eco-friendly Product Isn't
When a company tries to pass a somewhat green product off as truly eco-friendly, it's known as "greenwashing." Sometimes greenwashers also advertise eco-friendly products for the sake of appearance, as opposed to any actual earth-friendly motivation.
Here's how to tell when companies are more concerned about looking green than actually being green:
Think critically
Keep an eye out for obvious contradictions to an otherwise earth-friendly message. One of the most obvious examples is the Live H2O music festival. With three days of live entertainment at more than 30 locations around the world, this festival probably does meet its stated goal of promoting peace and sustainability. But when you add up the environmental impact and monetary cost of staging such a large production, is it truly eco-friendly? I don't think so.
Define organic
Not everything that bears the word "organic" lives up to its billing; it depends on how the word is used. Look for the USDA Organic seal as proof that an item really does meet the USDA's organic standards. Items labeled as "with organic ingredients" are just what they sound like--made with some, but not all, organic ingredients. You'll also find some products that use the word organic or natural to lure you in--like the Herbal Essence "organic experience" commercials--but unless they're directly describing the product itself as organic or natural, these claims aren't subject to the same scrutiny as the usual "organic" label.
Watch out for partial claims
Just because a product has one or two eco-friendly ingredients--for example, organic cotton in a diaper or neck warmer--doesn't guarantee that the rest of the product is as eco-friendly. Take the time to look at the rest of the ingredients, and think about what the manufacturer isn't saying on the label.
Lies in Advertising
You can't always believe what you read or hear in advertising you hear or see of. Greenwashing.net uses the Audubon Nature Institute as a prime example, listing ways that its investment and lobbying practices differ from its advertising. You can do the same thing, often with a bit of judicious Googling.
Consult Trusted Sources
If you have questions about whether a product is really green or not, don't be shy about picking up your phone and calling the manufacturer to ask. Or consult your favorite green directory for a rusted list of green directors and vendors such as Greenwashing Index or the Natural Products Association.
How do you ensure the products you're purchasing are actually green/eco-friendly? Share your insights in the comments.