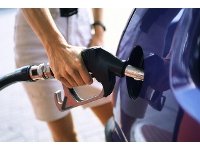 Save money at the pump: Grocery store gift cards cause gas!
Literally.
Hang with me on this.
This time last year I was just learning to get my couponing on. I was confused most of the time. If a Mega Event was going on at the grocery store, you would probably find me sitting in a corner by the used bread drooling, babbling and swatting at imaginary flying insects. That was then, this is now. I don't go to Walmart as much as I used to, but found myself there the other day. It's still one of the best places in town to get nuts and nibblers for the squirrels. As I wandered, I saw all the Christmas stuff. Um, it wasn't October yet. A honkin' smile spread across my face. What thought could dash through my brain and create such a goofy grin you ask? Well, Gift Cards and Gas Points. For those of you that shop at stores that do Gas Rewards, you know what I'm typing about. For those of you that don't, it's something you really should look into. The critical thing is that you're a member of whatever plan/club your Grocery store requires. Essentially you get rewarded in gas points for your purchases. Where I shop, for every 100 points I accumulate, I get a dime off per gallon, 200 points = $.20 per gallon and so on. Ut oh, I'm going to slip into the land of Honey Boo Boo. Dollah makes her hollah but a dime makes my bells chime. Did I really just type that? (sigh) The big kicker is that when you buy Gift Cards, you get 2x the gas points. A $25.00 gift card turns into 50 points / $.05 off a gallon. The super kicker is when you see the points go up to 4x. Buy a $25.00 qualifying Gift Card and it's an automatic dime off per gallon. Buy 2 $25.00 Gift Cards, twenty cents off per gallon, etc. Now, I do this all the time. I need things at Home Depot, it's money I have to spend. Why not go to the grocery store, get the Home Depot gift card, then go buy what I need? I needed a new lawn mower so I saved throughout the year. When the time came, I bought enough Gift Cards to cover the cost. Oh the thought of those gas points sends me into a veritable tizzy. I've charted a course to help you sail into seasonal savings:
Make a complete list of all the people Santa wants to say hello to this year. ALL the people, right down to the elves that drop the newspapers with cherished coupons. Maybe a few extra cards in case someone is forgotten or pops up. Of course, these will be the ones that could be used personally should they not get given away. The list goes with you every time you hit the store.
Is there a Coffee shop at the grocery store you frequent most? Make your first foray into the land of Gift Cards at the coffee place. Go over to the land of Gift Cards, see if there is one for the coffee place in your store. Get that gift card and look at the receipt to see the gas points. Then head on over and use your GC to get a cup o' Joe. Take your list and your Joe back over to the GC Kiosk. Become one with the Gift Card-iverse. It really is a mesmerizing place. Figure out who gets what.
Stalk your prey. In this case it's two characters, 4x. When it peeks its head out, let out a yelp. This means 4 times the gas points. This is usually posted at the top of the Kiosk or shown on the front page of the weekly flyer. You can usually find it online as well. Oh my heart goes pitter patter when I see 4x.
Pounce like a kitten on a June Bug. If your budget can handle it, take care of the list all once – depending on what day of the month it is. If it's the beginning of the month, you're more than likely safe. If you can't do it all at once, just pick up a few of the cards. Next month, a few more. Look at your receipt and ogle those gas points. Let out another yelp.
Years ago, people thought GCs were ever so cold and impersonal. But, there are so many ways to disguise them to make them festive and personal. Buy yourself a GC to Michaels, put on some Partridge Family – c'mon get crafty! Your shopping is done, you have time.


As with anything in life, there are rules and regulations. Without them, okay…Thunder Dome. A few things to look out for:
Know the policies of your store. For example, when do gas points expire? The last thing you want to have happen is to have your points poof with the beginning of a new month.

Know where your qualifying gas stations are. The Soopers I shop at has one in the parking lot. Some don't. You don't want to be pulling in to get pumped up only to be deflated if it's not an applicable gas station.

Make sure you're buying qualifying Gift Cards as not all GCs get gas points.

Here are a few other little tricks that will allow you to be more methodically maniacal:
Use the credit card that gives you the best rewards to purchase your gift cards. Of course, this is only a true benefit if you pay your balance monthly. Doing this is like making a double score.

If you have to buy actual presents, use the GCs yourself. If at all possible, wait until there's a screamer of a sale online (with free shipping) and use your GC on ebates. Now you're into the triple and quadruple score range. Please don't operate heavy machinery in this condition.

Train your brain to think Gift Card. Anytime you're spending, whether it be going thru a drive-thru, going to the movies, getting music from iTunes, etc. Are you paying cash? Using a credit card? If you're spending the money anyway, a Gift Card spends the same way and has perks.

Now go to the gas station and try not to laugh when the pump asks you if you want to use your per gallon discount. Just try. I double dawg dare ya. I'd bet a Gift Card you'll be giggling at your gas-tronomical savings.
Janet aka JustHazel is a Savings.com reader, active community member and now guest writer. When you don't see her around Savings.com she's probably laughing up a storm in her fixer upper.
(Source: Savings.com)