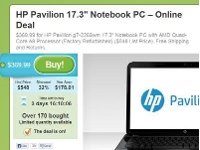 Groupon's tech deals: Are they really deals?
I'm a big fan of Groupon, LivingSocial, and similar daily-deal sites, which I've used to score some solid bargains on restaurants, family outings, and even vacations.
But tech gear? Not so much.
If you're like me and get the usual deluge of e-mail from these services, you've probably seen offers for everything from laptops and TVs to mobile chargers and Apple accessories. And perhaps you've assumed that because this is the same site that saved you 50 percent on your last Thai dinner, you're getting similar savings on these tech items.
Again: Not so much.
I've looked at a variety of past and current deals from Groupon, LivingSocial, Moolala, and others, and my conclusion is that although you'll occasionally find a good price on certain kinds of items, it's not always the best price.
For example, LivingSocial is currently offering
an Apple-compatible sync cable and charger for $12
. However, the photo makes it look as though you're getting two cables, one 30-pin (for older iPhones and the like) and one Lightning (for newer gear). But you actually choose just one.
The page also suggests this is a $35 value, which it would be if you purchased the Apple-branded equivalent from an Apple Store. However, there are any number of Web outlets that sell the same thing for less. At Meritline, for instance, I found
a sync cable and charger (in blue, no less!) for $4.99 shipped
. Hit up Ebay and you'll find countless other deals at similar prices.
Indeed, I couldn't find a lower price anywhere. The same system sells new for $498; the only real hitch with the refurbished version is its 90-day warranty (which is fairly typical for refurbs).
The moral of the story is this: Don't blindly assume that a Groupon or LivingSocial tech deal is the best price you can get. It may be, but you should definitely do a little comparison shopping before you pull the trigger. The money you save may be your own.
Veteran technology writer Rick Broida is the author of numerous books, blogs, and features. He lends his money-saving expertise to CNET and Savings.com, and also writes for PC World and Wired.
(Source:
Savings.com
)