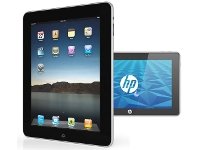 HP Slate Could Give Apple iPad a Run for its Money
Ladies and gentleman: Apple has done it again with the release of their tablet PC, the
iPad
(or, as I like to call it, an oversized iPod Touch
). This tablet can do everything the iPhone can do except make calls. How does it make up for not making phone calls? It's bigger, more powerful, and more expensive. Unlike the release of the original iPod (
or, as Guy likes to call it, the Walkman from space
), competitors plan to compete early on.
HP
, for instance, plans on releasing their own tablet PC the HP Slate.
Here's a quick rundown on the differences between the iPad and the proposed HP Slate:
Yasar:
The HP Slate will utilize a touch screen just like the iPad. However, it reportedly will offer an extra way of navigation in the form of pen/digitizer support. This is a great added feature for those of us who prefer to write with a pen rather than using a pretend keyboard.
The HP Slate will have support for 1080p playback. This feature means you can use your apps in full HD which is great for when you use it to watch movies. This is a feature that give the HP Slate an advantage over the iPad.
Guy :
You also get a webcam with the HP Slate. This is an advantage for everyone except for Yasar. He is likely to use it to creep people out on Chatroulette. The rest of the world can use the webcam to connect with others, make This Week in Deals videos, or become the next YouTube internet sensation.
The iPad actually has an advantage over the HP Slate when it comes to battery life. It's battery is supposed to last twice as long (10 hours vs. 5 hours). This gives it a pretty big advantage for those who plan on using their tablet on the go.
For more comparison info on the two beasts, check out Engadet's
HP Slate vs. iPad
article. Speaking of two beasts, you can follow me and Guy on Twitter
@YasarSavings
and
@SavingsGCapes
for more tech and video game news and deals. If you have any tech ideas you want us to blog about or just some thoughts on this topic, let us know in the comments section.