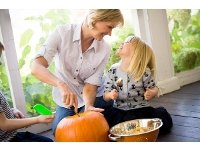 Halloween Freebies & Tips: Free Craft Ideas, Recipes, DIY Costumes & More
It's October already! With two more holidays after Halloween everyone tries to get through the season without going broke. I remember as kids we use to come up with our own Halloween costume idea, make them with friends, wear them and we loved every minute of it.
Somehow Halloween has turned into buying expensive costumes and all the neighbors trying to out-do each other with the lawn decorations. Grown ups take the fun out of everything and it's suppose to be a good time remember? Kids love to be creative, so let them make their own costume and make some crafts to spook up your house. Here are a few freebies and tips to reel in the cost of Halloween.
Freebie:
You can't have Halloween without
spooky sounds
. Download angry creatures, cackling witches, howling wolves and more.
TIP:
Get instructions and tips on making low sew and no sew
kids Halloween costumes
from items you probably already have in your home.
Freebie:
27 stencils
for carving your pumpkin. If your not good at carving, you can always use the stencil to paint your pumpkins instead or let the kids paint them.
Freebie:
Download "
31 Halloween Crafts
" to get some ideas. Crafts include; Halloween gift bags, gold devil mask, candy corn bowl, cheesecloth bat and more.
TIP:
A cheap easy way to decorate the yard! Save your toilet paper rolls, cut out shapes for eyes in each tube. Place a glow stick inside, (sold at dollar stores), close up the sides of the tube with black electrical tape or dark construction paper. Place the finished tubes in bushes through out your yard so the glowing eyes can "peak" out at people. If you want to go all out, you can paint the tubes black so they hide better in the bushes.
Freebie:
Here are more
stencils and craft ideas
. A few are from Martha Stewart.
Freebie:
Kraft is offering
free recipes
and has some cute food ideas for a Halloween party. Recipes include; Boo-tiful Jell-O Cups, Yummy Mummy Spinach Dip, Caramel Pumpkin Mousse Tart and more.
Northeast Freebie:
Get the free
pumpkin leaf bag
with printable coupon from Valu Home Center's Facebook page. It's free and you can use it as a decoration for your lawn for Halloween. Coupon valid at only Valu Home Centers and expires 10/13/12.
These are just a few things to help you get started, there will be more in the upcoming weeks. Grab the kids and start having fun!

Jackie lives in Seattle, her blog is Free Hot Samples. Where there are hundreds of freebies and deals up for grabs.