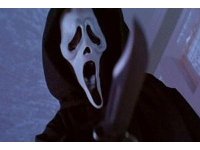 Halloween Horror Nights: Ghostface Needs a Wardrobe Makeover
Ghostface needs a wardrobe makeover. He tramps about in a simple one-piece black hooded Halloween costume, how gauche! Someone call the fashion police. Any potential victim could him coming from a mile away. In order for Ghostface to blend in with the general population, he needs to embrace the style of the times.
Doning a hoodie to hide his natural "Scream" face would be a good place to start. Keep the color of the hoodie black and add a simple pair of black sweat bottoms. It could work. What do you think?
Which hoodie do you think would look best on Ghostface just before he makes you scream?
Charli "Chuck" Gulley is a screenwriter, filmmaker and freelance writer who lives in Southern California. Quite the tomboy, she enjoys Rugby, Fencing and touch football. She's an alumnus of the prestigious screenwriter's workshop, "Writers Bootcamp." Her passion is Hollywood, anything and everything to do with filmmaking. If you don't find her on set, you can find her at the arcade playing air hockey and eating pizza.