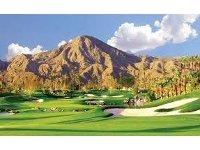 Head to the Desert for Fall Golf Vacations
Phoenix, Las Vegas and Palm Springs start cooling off as we head into autumn. With travel prices (
as well as temperatures
) down from summer highs, the Southwest is a great place to head for some golfing fun.
Southwestern desert locations boast warm and sunny days, with almost no chance of rain, in the fall. There is a big difference in temperature from the beginning to the end of September, with averages for the whole month still in the upper 90s and even 100 for Palm Springs, CA. In October you'll have gorgeous days in the mid to upper 80s and by November the average drops to the mid 70s for most locations. Evenings start to get chilly by November with lows in the upper 40s, so bring a jacket.
Las Vegas may not be the first place you think of for a golfing vacation, but there are many wonderful golf courses to choose from.
TPC Las Vegas
is home to the Las Vegas Senior Classic and is highly praised as a course with a bit of a challenge to it and a dramatic setting. Choose to golf right on the Vegas Strip at
Bali Hai Golf Course. You can also find great package deals from Bali Hai at hotels like Bellagio and MGM Grand. Look for discounts while attending popular conventions like SEMA Las Vegas, which is in early November. Las Vegas has the added benefit of reasonably priced airline tickets and hotels and great nightlife. You can't go wrong!

Arizon is a very popular golfing destination. Phoenix and the surrounding area has a huge array of resorts to choose from that have wonderful golf courses. Marriott has some great golfing resorts like the JW Marriott Phoenix Desert Ridge Resort and Spa which has a golfing package for two from just $369 per night with unlimited golfing. Here you can really spend your whole trip golfing with only breaks for food and sleeping, it could be your dream vacation!

Tucson, though not as heavily serviced by airlines as Phoenix, has beautiful golf courses and resorts. The weather is also perfect in the fall, generally a few degrees cooler than Phoenix. Compare Tucson golf courses--find the number of holes, par, rating and slopes as well as the architect and year built for each golf course. You'll also find hotels offering golf packages in Tucson.

Palm Springs, CA is a hop, skip and a jump from Los Angeles, with drive time under two hours. Temperatures are still really hot in September. Leave this golfing destination for October, November or even into December for the best weather. Indian Canyon Golf Resort is a breathtaking site
with two full 18 hole courses. Indian Canyon is a public course without a hotel, but many hotels are nearby. La Quinta Resort and Club has five courses and has been named one of the
Top 50 Golf Resorts in the North America by Conde Naste Traveler. Find
package deals
for La Quinta starting at just $139.95 per person double occupancy and includes unlimited golf. Low cost travel (
with your car or a rental
), warm weather and fabulous surroundings; Palms Springs is a perfect golfing destination.
Life is good, golf more!