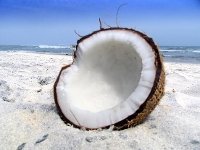 Health Benefits of Coconut Oil, Water and More : 5 Uses and 5 Products Under $5
Summer is officially here and this evokes thoughts of the beach, BBQs and tropical drinks. One of my favorite summer drinks is the Pina Colada, topped off with an umbrella of course. It just screams fresh and fun!
Did you know that the coconut is actually very useful in many ways other than to put in your alcoholic concoctions? Here are five great uses for it along with five cool products under five bucks.





Are you a fan of coconut? What are some ways you enjoy this all-purpose fruit?