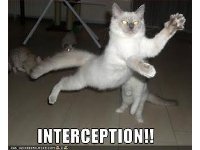 Herding Cats: The Super Bowl, Facebook IPO, & How To Waste Money
Image courtesy of
ICanHasCheezburger
This week we have the Komen controversy, big money at the Super Bowl, ways to waste money, the Facebook IPO, and stashing cash.
Plus, purring cats.
Washington Post
:
Komen Foundation revises funding policy
- The power of the internet. A week or so after internet outrage stopped SOPA, outrage against the Komen Foundation defunding Planned Parenthood hit a similar peak. Looking around at this issue, people are still angry and think this is a PR stunt (
or panic
), but be grateful at least that Planned Parenthood's getting its funding, and that protest actually can work.
Bloomberg
:
Super Bowl All About Money, From Pricey Seats to Party Passes
- It's said that Super Bowl games don't have the greatest fans in the stadium. For one, it's in a neutral territory so all the die-hards don't show up. But also, given the incredible expense of tickets, it probably attracts those who are less fanatical. The fans that do get to go are mostly season ticket holders. Do rich people really cover themselves in team-color body paint? Probably not. Still, it's the best game of the year in any sport. Go Giants!
Money Talks News
:
5 Stupid Little Ways I Wasted $35.94 This Week
- A neat post about just how much you spend in a given week on the small things. If you're spending $3 or less at a time, it might not seem like a lot, but when added all together, that's a lot. She doesn't even list a whole lot of purchases and it's $140 a month. What could you do with an extra $140? Plus, the cheap stuff doesn't seem like the makings of a very good diet either.
EW
:
Will success spoil Facebook? How the $5 billion IPO could affect you
- So Facebook is going to sell for 5 billion dollars, which is pretty amazing considering that it only has 3000 employees. With Facebook, its the users who do the bulk of the work. So how is the sale going to affect the daily user? Probably not a lot in the short term, but in the long term it will speed up the rate at which Facebook is integrated into the entire internet. Whether or not this is a good thing is up for argument. It doesn't really seem like FB is going to go the way of Myspace and fade away.
Bargaineering
:
Your Take: Why I Keep Cash at Home
- I wanted to post this because of a legend in my family: a great uncle didn't trust banks so he kept his entire life savings in his closet. One night he was robbed...of all his money. This isn't quite a cautionary tale because no one's going to do this, but it's still a good idea to have some spare cash around in case of emergencies. Imagine if electricity went out and an ATM wasn't accessible, or any card readers. Think of adding cash to any emergency kit.
Video of the Week: An informative look at the cats that purr.