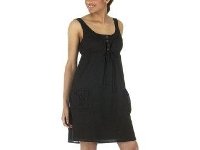 Holiday Hotness
The Holidays are approaching and that means you no doubt have a few eggnog laden nights in your future. It's the time of year where you'll be hopping from party to party, trimming trees, giving thanks, collecting gelt, or just being merry with friends. But with all the expenses of gift giving and travel, who wants to add a Holiday party wardrobe to your list of expenses?
Not you, Savvy Saver!
With just a few simple accessories, you can wear the same basic dress to any occasion. Save money and time--and look great doing it.
The Bones
Somewhere in the recesses of your closet, I know there's a cute little dress (hopefully in black or navy blue) just waiting for its big chance to hit the town. It's strappy, it hits just above the knee, and it's perfect for the Holiday season. Hopefully it's also in a nice, festive textile, but even a jersey or cotton will do, so long as it's flattering and you feel great in it.
So that's where you start, with a great anchor for a Holiday party wardrobe. For party number one, sport your dress, some simple stud earrings, and your go-to shoes.
But surely, you social Butterfly, there's more than one engagement on your calendar this Holiday season. So, what next?
Belt It
Give that shift a new silhouette with a simple belt. Make it splashy for some party fun: a sequin belt, something metallic, or patent leather will do the trick. Anne Klein makes a classic Patent Covered Buckle belt and you can ake it even more affordable with one of our Anne Klein coupons, of course. Pair it with some hot to trot heels, like these Milan pumps in Deep Sea by nude footwear. Use a Piperlime coupon and you'll be ready for some Winter Wonder at your next cocktail party.
Warm It
Hoping to look more cozy than showy? Throw an American Apparel turtleneck underneath that dress, add some leggings and boots from DSW, and in a snap you look ready to curl up with a cocoa and some nice conversation at your intimate Thanksgiving potluck.
Retro-Fit It
Invited to an old-fashioned Holiday shindig? Make the look of your trusty dress old school with a few vintage inspired pieces. A beaded cardigan and a pair of peep toe pumps gives you the Holiday kitsch factor you're looking for. Charlotte Russe has some great deals on cardigans; check out our Charlotte Russe coupons before you buy. And Seychelles look like a retro throwback, but feel like the comfiest pair of heels you'll ever wear.
Upgrade It
When New Year's Eve rolls around, you don't need a New Year's dress--a simple broach and a scarf can make your old stand-by dress look 2010 ready. Pick luxe fabrics like velvet and satin for your scarf, and find a broach that's lacquered for a little shine. Check out the offerings at Mod Cloth and check out our Modcloth coupon codes as well.
With these simple tricks, you can save the stress of Holiday dressing for your turkey and tree. It's easy to look winter wondrous and it doesn't have to cost a fortune. And the pieces you buy can adapt for life after winter.
For more great style tips, check out Teen Vogue for Fall's Best Cheap and Chic Statement Coats and How to Style Three Key Fall Pieces Three Different Ways. And don't forget to follow me on Twitter @SavingsMBones for great Beauty deals this Holiday Season and all year long.
Happy Holidays !